I first got glasses when I was in high school.  It was those round specs that one of the characters in Bosom Buddies wore.  Their round frames made me look somewhat more intelligent and gave me something to hold in my hand when I got nervous when I talked to girls.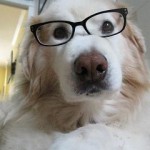 All of my eyeglasses since then have been similar.  Depending on your demographic you would say that they looked like Buddy Holly or if you're a bit younger, Drew Carrey.  When my wife and I had our honeymoon in Vail we went to a piano bar.  I raised my hand to request Windy by The Association, which is one of my go-to karaoke songs.
"Yeah, Drew Carrey, whatcha want", the piano man stated.  I yelled my request, he belted out the first quarter of Windy and then it merged with another song, but it was all good.
When I was renovating our first home I put my glasses down for moment, promptly forgot about them and stepped on my vision.  That was a lesson learned that when I buy glasses, I should get two pairs, because one will get stepped on, pulled by a toddler or punched from a rogue ball at camp.
As I've aged the internet has grown with me.  You can get eyeglasses online, which can save you time and money, if you choose wisely.  GlassesUSA.com is having a Summer Sale now for 30% off prescription eyeglasses (or sunglasses) + FREE Shipping with the code: Summer2012.  GlassesUSA also has a 110% price match, 100% satisfaction guarantee and refer a friend program.

This was a sponsored post by GlassesUSA.com.  All thoughts are my own and I really have had Drew Carey glasses since the early 90′s.