Thank goodness for the iPad. What did parents do before it? My kids will sit for hours, enraptured by this app or that app … well, lately, it's actually this one specific app: Where's My Water by Disney.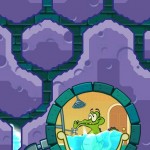 According to the App store, Where's My Water is, "a challenging physics-based puzzler complete with vibrant graphics, intuitive controls, and a sensational soundtrack. To be successful, you need to be clever and keep an eye out for algae, toxic ooze, triggers, and traps."
With more than 350 puzzles, this game is a mother's dream: fun, education, and above all, time consuming. Unfortunately, it's also a mother's worst nightmare. This mother, anyway: I can't put it down!!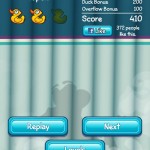 Like all the good physics games that have taken the iCommunity by storm (think: Angry Birds), Where's My Water is intuitive, bright, dynamic and completely addictive. In addition to helping the water get to Swampy's bathtub, you can also find hidden objects and recover three rubber duckies hidden throughout each level.
Though the levels escalate in difficulty rather quickly, it is rare to encounter a level that isn't beatable for a minimum pass. Maybe it's the OCD in me, but I refuse to move on to the next level without getting all three duckies and uncovering every hidden object in each the level! This can lead to iPad-tossing tantrums (not in front of the kids) and a self-reminder to find something else to do around the house.
All and all it's a clean, fun, family-friendly game that's constantly updated and keeps things interesting. Where's My Water is available for most devices-it's free for the iPad and .99 on Kindle Fire.  It's easily worth the 99 cents, and likely to keep me up tonight.
About the author: Elisabeth McGuirk is a full-time mommy and part-time Disney enthusiast living near Johnson City, N.C. She works on MickeyFix.com, helping fellow Disney fans find all of the Disney stuff they didn't know they needed. Find your Mickey Fix on twitter @mickeyfix.