I still remember the area in my closet where my monster lived.  I don't remember what they looked like, only that the closet was always open just a little …where they could come out.  Of course they never did and the monster wasn't real.  If Drop Dead Fred or Ted taught me anything it's that imaginary friends aren't here to scare us.
Take those lessons and break them down to something that can help a child understand the monsters that hide in their rooms and you've got Marlow and the Monster.  Marlow is a young boy, about 9 years old who has a monster that he doesn't want and that nobody believes is there.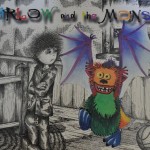 The monster creeps in Marlow's window and proceeds to be far too active, alert and annoying for a young boy who needs to go to sleep.   Marlow and the monster argue about why no one believes in the monster, Marlow yells for his parents to help and finally he takes the monster to his younger sister.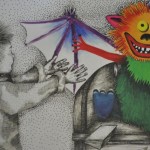 As with most sibling relationships, his sister didn't ask for the monster and she's quite scared of him.  However, after a few minutes she realizes that he's really not that bad and then they go back into Marlow's room where the monster tries to become friends with him.
I gave the book to some wise 9 year olds and asked them what they thought of Marlow and the Monster.  "Even if you're different it doesn't mean that you can't still be someone else's friend", a sage 9 year old told me.  As an adult reading the book my main takeaway was that the monster isn't as bad as you think he is and that he's actually quite different than what you think.
All of the youth that I gave the book to said something similar to the fact that they learned that people are different and that's OK.  They also liked the way that the illustrations in the book were drawn.
The monster is the only character in color-and he's gorgeously painted in watercolors, while Marlow, his sister and parents are all drawn in ink.  The monster always changes just a little bit and is exaggerated, not scary for the kids to look at.
Marlow and the Monster is a cute book that kids 3-8 will like to read and look at the pictures.  Toddler Mojo is almost 3 and likes the pictures, can read some of the words, but isn't a big fan of the monster.  When he's older and can better explain what he's feeling this will be a good book to walk through him with regarding what he's afraid of.
As part of the Marlow and the Monster blog tour you can download it for free until August 18.
I was provided with a complimentary copy of Marlow and the Monster, in addition to being part of the blog tour for the book.  All thoughts are my own.