Toddlers love to play.  They can play with an empty box and a pile of Styrofoam peanuts.  When parents purchase toys for toddlers they should be durable, interesting and something that will be played with for as long as possible. To that end we looked at the Christmas toys we got Toddler Mojo for Christmas 2011.
At that point he was 22 months old and a typical toddler.  Here's a look at some of the Christmas toys he's still playing with nine months after he got them.  None of these companies gave us the products; they're all things that we purchased on our own.
Little People Animal Sounds Farm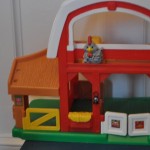 Toddler Mojo has always liked animals.  It started with cats and dogs, but then branched out to farm critters.  When we saw the Little People Animal Sounds Farm it seemed like it would be a safe bet and it was.
He loves this toy.  He takes the yellow horse that came with the farm everywhere-I mean everywhere.  When he takes a nap, the farm is in the crib with him.  The farm doors make animal noises, the sliding doors on the side make noises and there are other critter noises it makes when you push things.
This toy moves around the house daily and hasn't shown one sign of age or weakness.
Imaginext Dragon World Fortress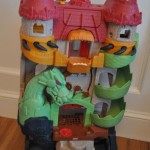 Toddler Mojo was scared of this for a week. He'd hear the sounds and see the lights when I would play with it, then make a wide berth around the playroom to avoid it.  Then, about eight days after getting it he put some of his animal figurines on it and he's been playing with it ever since.
The animals made way for the dragon warriors that the play-set came with and now they all play together.  It's all very easy to play with and hasn't broken or slowed down at all.
The Black & Decker Power Tool Jr. Workshop with 50 Accessories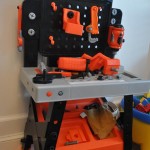 Toddler Mojo is almost 3 now and he plays with the Black & Decker Power Tool Jr. Workshop a couple times a week.  More often than that he'll take some of the tools off of the bench and 'help' me around the house.  It's ridiculously cute to watch him pretend screw something.  We have to watch him with the hammer, even though it's plastic it could still hurt and we don't want to set a bad precedent.
He can't work the plastic bolts and screws yet, but he loves trying and has learned the names of all of the tools.  Ideally, Toddler Mojo would've gotten this toy when he was almost 3, but he played with it enough last winter to merit mention here.  His enjoyment in this toy has only grown since then and I'm certain that it will be played with for a long time.
Do you have a favorite toy to give a 3 year old boy?  We'd love to hear any ideas as his birthday and the holidays are coming up again.