Raiders of the Lost Ark is one of the few movies that stops what we do in the house.  It's a special bonus if it starts when the boys are asleep so that my wife and I can watch it together.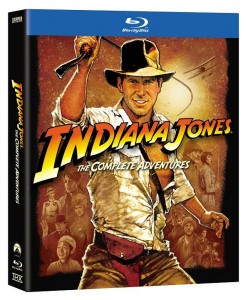 We are pumped to be able to give away a copy of Indiana Jones: The Complete Adventure on Blu ray DVD.
It was only this year that we got our high definition television and the difference in watching things regular, as opposed to high definition or Blu ray is akin to a compact disc and an LP.
We're really looking forward to watching the colors pop and the landscape become as clear as a travel brochure.  As a dad I'm really ready to watch them our boys, but as they're only 3 and 1, they've got a couple years before we'll watch them as a family.
Regardless of your favorite Indiana Jones movie you've got reason to celebrate because they're all coming to Blu ray on September 18!  That's all 4 movies in high definition Blu ray, in addition to over 7 hours of documentaries, interviews with the cast, film makers and more.
What's more, Raiders of the Lost Ark has undergone a complete restoration for the IMAX theatrical run.  Raiders of the Lost Ark is in IMAX for one week only, September 7-13, awesome.  Here's a list of where Raiders in IMAX is showing near you.
For the Indy fans that need more goodies they can download the free Indiana Jones Whip App.  It has the official music to the movie, whip games and is free if you have an Android or iPhone.
We received a pair of tickets to see Raiders of the Lost Ark in exchange for this post.  All thoughts are our own and the Ark is indeed a transmitter for talking to God.