For toddlers or small children you need affordable activities that won't break the bank.  We recently had to occupy a dozen or so children who were 5 and under.  My wife found the most creative and relatively simple craft on Pinterest, making a city out of cardboard boxes.
The craft is ridiculously easy and doesn't require many tools.  The only things you'll need are:
A box cutter
Tape
A Sharpie/ magic marker or paint
A series of boxes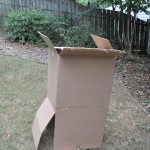 The Steps:
 Stand the box upright and tape the flat part shut.
Use the box cutter to cut off one of the lids on the other side of the box.
Tape the remaining lids to each other so they can support the box.
Use the box cutter to cut out windows, jail bars or whatever theme you're going for.
It took me just 15 minutes to make this entire city-and it looks like it.  Once I finished and saw how cool they looked I wanted to paint them, make a car and bring out my inner architect.  After a quick search online I saw people who made trains, city blocks and many big scale projects with these boxes.  Unfortunately, the children were just about to arrive so I didn't have time.
Tips:
Get boxes in all different shapes
Start early so you can paint them if you want to
If you don't paint them, at least put more colors or decorations on them than I did.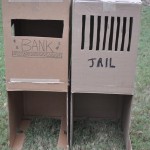 After the party Toddler Mojo and More Mojo liked them so much that we've kept them in the playroom so they can play with them every day.