Fun at Halloween time is often limited to pumpkin patches and hayrides—especially when it comes to families with young children. At Disneyland in California, families are treated to a whole different kind of fun. In fact, the memories and good times to be had have become so popular, that the Halloween season has become one of the busier tourist seasons at the resort.
The cornerstone of Disneyland's Halloween celebration is Haunted Mansion Holiday. Each year, the Mansion is taken over by the sights and sounds from Tim Burton's "Nightmare Before Christmas." Both inside and out, Haunted Mansion Holiday is happily spooky, decorated with the whimsy and bright colors the film has become known for. This year, Haunted Mansion Holiday is celebrating its twelfth year at Disneyland and there's no end in sight for this annual Park tradition. Find out a little more about how this attraction "comes to life" (or should I say death?) each year and find out what Jack Skellington thinks of it all.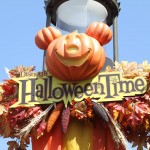 While Haunted Mansion Holiday may not be a good fit for toddlers and preschoolers, it is a big thrill for many school-aged children—especially if they are fans of the Nightmare Before Christmas movie.
In addition to Haunted Mansion Holiday, Disneyland provides a number of exciting opportunities for families to create memories with their young children. From pumpkin carving, art and game activities and petting goats and sheep at Big Thunder Ranch to becoming a pirate at the new Pirates League, Disneyland offers a lot of truly remarkable experiences for young children this time of year.
Learn more about the fun activities just for little ones this season at the Disneyland Resort.

To make the Halloween season even more special for Disneyland fans, the Park offers a special separate-ticket Halloween event each year called Mickey's Halloween Party. On these days, the park closes a little early and guests attending this fun and "not-so-spooky" evening get to experience Halloween in a way only Disneyland could imagine. Party goers get to trick-or-treat throughout the park in costume, experience the "Halloween Screams" fireworks spectacular hosted by "Master of Scare-omonies" Jack Skellington, attend dance parties throughout the park, meet unique characters at fun photo locations throughout the park, experience "Mickey's Costume Party" cavalcade and much, much more!
Can't make it to the Disneyland Resort this Halloween season? Do not fret! There are lots of things Disney fans can do to bring the magic of Disneyland home! While Disney websites likeSpoonful.com and the Disney Parks Blog offer great recipes and craft ideas, you can't beat the craft ideas below from Disney decorating guru, Dave Caranci.

Halloween Time begins each year in mid September and ends on November 1. (Haunted Mansion Holiday continues through the holiday season and usually closes in early January.) For more information on Halloween Time at the Disneyland Resort, check out BabesInDisneylandBlog.com.
For the latest news and information on Disneyland and the Walt Disney Company for families with young children, head over to Babes In Disneyland. (www.babesindisneylandblog.com)