No Other Story is the third and final book that follows A Whole Nother Story and Another Whole Nother Story.  The series follows the very eclectic Cheeseman family as they travel through time trying to find their mother. 
As No Other Story starts we find the Cheesman's stuck in a magical place called Some Times.  It's a bizarre land where time and space collide, which allows for dinosaurs to exist with Vikings.  The weather varies from arctic to dessert, depending on the time of day and in it all is a father with his children (and a hairless psychic dog) just trying to fix their station wagon time machine.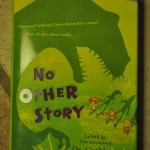 While they're stuck in Some Times the family goes through an avalanche in which Mr. Cheeseman get amnesia and thinks he's an Italian classical music composer.  Then they meet a caveman, travel through Some Times, meet their future selves-who then proceed to tell them about the great deed that they did in their past.
If you read the first two books in the series you're familiar with the overt silliness, quick dialogue and family moments that are written in.  According to people that have read the first two books, No Other Story is a good ending to the trilogy.  If you're like us and hadn't read them, No Other Story is a fun, silly read that will keep children 8 and up entertained.
We received a copy of No Other Story to read for review purposes.