For the record we're still potty training 3YO Mojo.  His potty training started when he was 2 and a half, taking interest in the potty and having so-so results, including dad sleeping on the toilet. 3 months prior to his third birthday he started going  #1 with regularity, but the elusive #2 was still not here.  It was then that we had good idea that morphed into a great idea.
Potty training lingo
"Go Potty"  is #1, AKA, pee pee.
"Go Poopy in the potty" is #2, AKA, poop.
As any parent potty training their child does, we would ask him every 10 minutes if he has to go potty.  The go poopy question would be asked after meals or before naptime.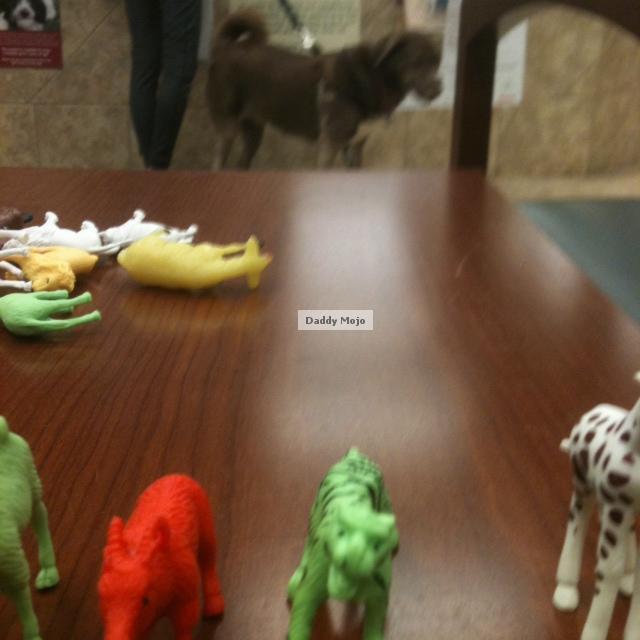 When 3YO Mojo was consistent in going potty we realized that we could get him to go poopy if we offered something that he wanted.   We started to offer him small candy like M&M's, but I kept eating them.  When I didn't eat them we discovered that they did motivate him to go poopy!
However, he quickly discovered that the more he went poopy, the more candy he could get.  Obviously this is a quandary because we want him to go poopy in the potty, just not at the expensive of his teeth or gaming the system.
In the store one day I saw these affordable, small animals.  They're about the size of Green Army Men and are usually in the same location as them.  In a couple of years our son may like the Green Army Men, but right now he is all about animals.  These animals are cheap enough to purchase and use as a reward for when he goes poopy in the potty.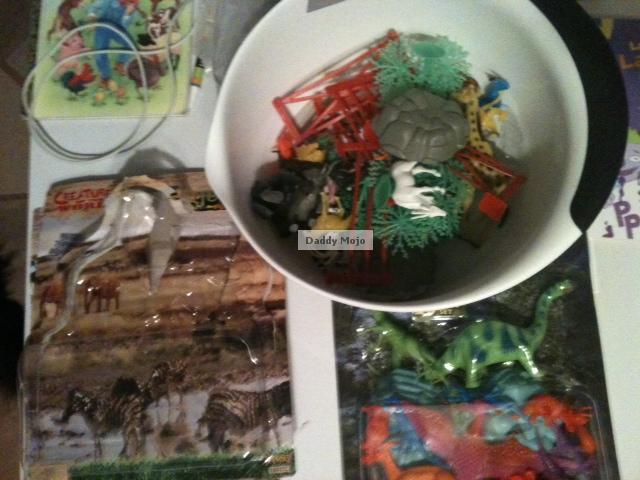 Now when he goes poopy in the potty he gets to keep an animal.  Thanks to this system he loves to go poopy and we're often greeted with the child like ramblings of him saying 'if you go poopy in the potty you get an animal'.
Repurposing the animals
Occasionally we'll find animals around the house.  When that happens we put them back in the bowl.   The tiny toy animals can end up costing much more than candy, so we're crafty about making sure that the bowl stays as full as possible, without having to go get more animals.
I suspect we'll have some potty training bumps in the road, but for now this system is working great.
So our child's hot button is animals.  He's got a bucket (one for each season!) and he carries his animals around everywhere he goes.  The above picture is one of him 'lining up my animals'.  Is there a bribe or 'carrot' that you used to potty train yours?