As a dad to two young boys I imagine how difficult it must be to be a dad to teenage girls.  But what if you were the father to four teenagers, all of whom were in a band?  And then that band started getting phone calls from Sarah McLaughlin to open up for her on concert, play SXSW, Conan, Letterman, Rock Center on NBC and have their debut EP land in the top 10 on iTunes?  Which is more difficult, how to handle four teenage girls or how to manage an up and coming folk/rock group with bookings all across the country and interviews with major publications?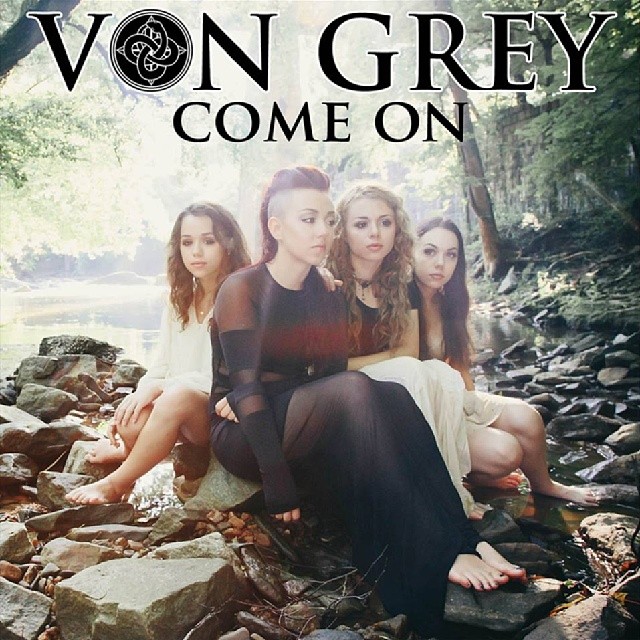 von Grey is made up of 4 real life sisters, Kathryn, Annika, Fiona and Petra, ranging in age from 13-18.  They play a great blend of folk, pop, indie music with rich harmonies that are far beyond their years.  They're a great band in spite of their age and not because of it.  In other words, they're not being graded on the scale of a child band, handicapped because of a television appearance or family pedigree.
Mike von Grey, their father and his wife Jill, didn't start out with the goal of their children being successful musicians.  Like any responsible parent they simply were deciding what values and skill that they wanted their children to learn.  They knew that it was important to appreciate, understand and to be able to perform some music.
They put the eldest, Kathryn into a music class when she was five and started the others at approximately the same age.  None of the children exhibited abilities before then, but they did all attend a music school that taught according to the Suzuki Method.
The Suzuki Method teaches children to play instruments in a more natural way, without rote memorization.  It encourages them to play with every student having at least one solo their first year of school.  It's the way that you learn to speak.  You simply speak and listen.  That's why immersion is the best way to teach a foreign language.
All of the children started with a string instrument and then moved onto something else. After their third child's first semester of kindergarten they decided that it would be best if they homeschooled her.  At the end of the next semester they pulled all of the girls out and have been homeschooling them ever since.
As an ex-teacher I recognize that some kids learn at different speeds or require different motivation in order to more effectively learn.  Strictly as a parent who runs errands it makes sense too.  The von Grey family could run errands when they needed to and it allowed the girls to attend music classes in the daytime when they were less crowded.
In 2007 the quartet started playing local gigs just for entertainment and money.  As time went on they all started to sing, write their own songs and arranging more complex musical pieces.   The next big shift came in mid 2009 when the girls approached their parents because they wanted to learn more and take it to the next level.
"We never wanted to be their business partners" Mike said about the growth of von Grey.  As parents what he and Jill did was not let on that it could become a big deal.  They simply wanted the children to live in the moment and not constantly measure themselves about what things could be.
The next level consisted of more practice and bringing music professionals who could help shepherd their careers.  It worked because in the summer of 2010 Sarah McLaughlin called and wanted von Grey to open for her during a stop in Atlanta at Chastain Amphitheater.
After that came Conan, Letterman, SXSW and being the second most added AAA song after Mumford and Sons during a week.
Mike said that von Grey was offered chances to do the reality singing TV show thing but declined those offers.  He said that von Grey has never wanted to feel formulaic and that the girls have always been driving the image behind the creative direction and sound.   "All of the girls have a self assured, quiet confidence.  They have pushed the evolution of their sound and look, it is them", he continued.
I asked him about how the girls managed the delicate balance of social media, their teenage years, peer pressure and the permanence of online activity.    As parents they never checked their social media accounts in a micromanaging way, the girls knew that once something is online it lives forever and that nothing is un-discoverable.
"The kids that stand out aren't the joiners; they've found passion, excel, love and go deep.  Whether its sports, acting, whatever it is, they accomplish different standards.   If you're passionate you're almost certainly going to excel at it, "Mike said.  It's obvious that the von Grey girls are indeed passionate about music and creating it.  Go deep.
von Grey has been doing some philanthropic work also.  They've played non-profit events for T.J. Martell Foundation, the School for the Blind and on December 6 they're playing a fundraiser for Captain Planet Foundation.  Captain Planet Foundation is a 501c3 that teaches children about the environment, sustainable gardens and more.
von Grey's latest EP, Awakening comes out in January.