Podcast: Play in new window | Download
It's just two weeks before Free Comic Book Day and many of the titles out this week will have free versions available on May 7. One of the best books in all age comics comes out this week; Lumberjanes #25 is great for girls or boys, with a balance of science fiction, friendship and humor. Also out in humor for all age comics is Grumpy Cat & Pokey, a new ongoing series by Over the Garden Wall, Simpsons Comics #228, a trade paperback from Peanuts and more.
In science fiction/action comics there is a great comic targeted at the reluctant 9 year old reader. Another Castle is a mini-series from Oni Press that combines fantasy, action, monsters and the insecurities about growing up. Back to the Future #7 is a great example of how to take the story from a well known movie and continue it into the world of comics. This is a fun series that any age will enjoy, but does have vocabulary that might be too big for 6 year olds. For tween fans of mutant monsters Godzilla Oblivion (#2 of 5) comes out, as does Welcome to Showside from Z2 comics.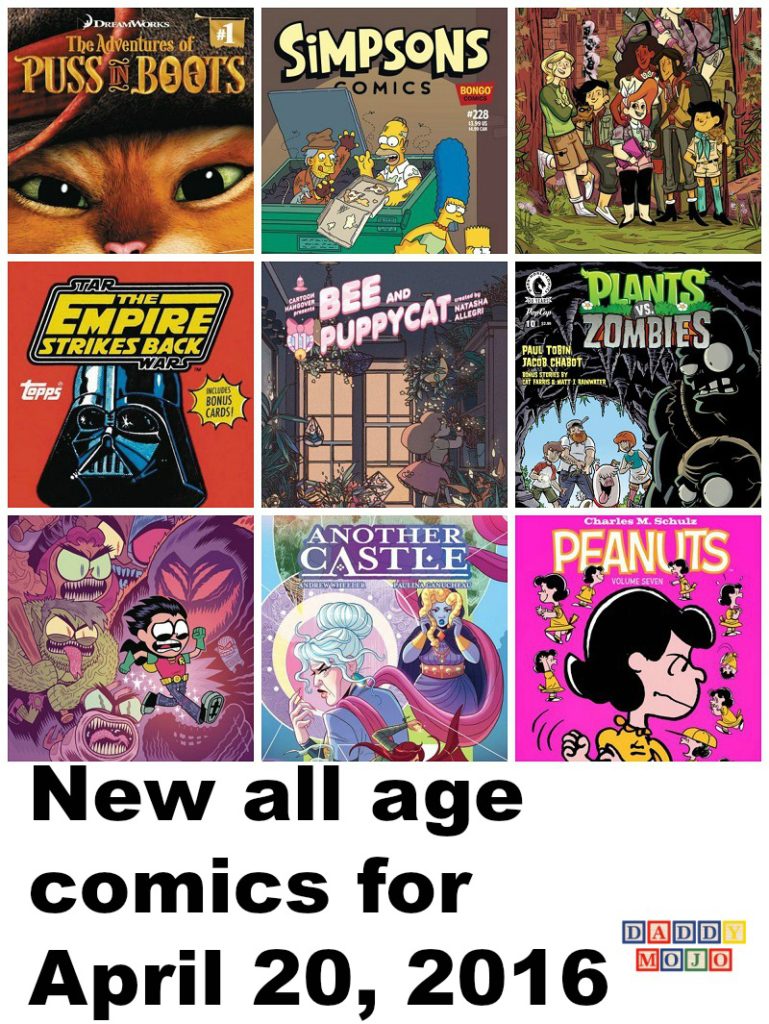 Plants Vs. Zombies #10 is one of our comics of the week. This series is so much for kids 7 and up. Our 6 year old has not 'embraced' zombie culture, but he likes this book. As a parent I thought that any form of zombie to a kid that age would scare him. I was wrong. This comic is lots of fun, with countless moments of humor, comical zombie villains and humans who always end up on top.
For old school fans or entry fans who like trading cards, Star Wars Original Topps Trading Cards Vol 2 Empire Strikes Back comes out in book form. These were the jam when they came out, now in book form.
Where is my closest comic book store? What is Free Comic Book Day? How can I listen to the podcast for all of this craziness?
Humor

Science fiction/action
Superheroes