Podcast: Play in new window | Download
Happy new comic book day! That's #NCBD if you're following along on twitter, share what you're buying or recommend new comics that others need to read. These are some of the cool new all age comic books this week. Are you watching Riverdale on television? Maybe reading a version of Archie, Betty & Veronica in comics? This week has the latest issue of Archie from Archie Comics, it's a great comic, tween, real-life comic that middle school kids and up will enjoy.
Archie is milder than the television show that's currently showing. It's also meant for an older audience than the 'classic' Archie digests that you see in check-out counters at the supermarket. In short, there's an Archie tailor made for any age and Archie #17 is the modern, revamped Riverdale character, but still has classic roots with modern issues.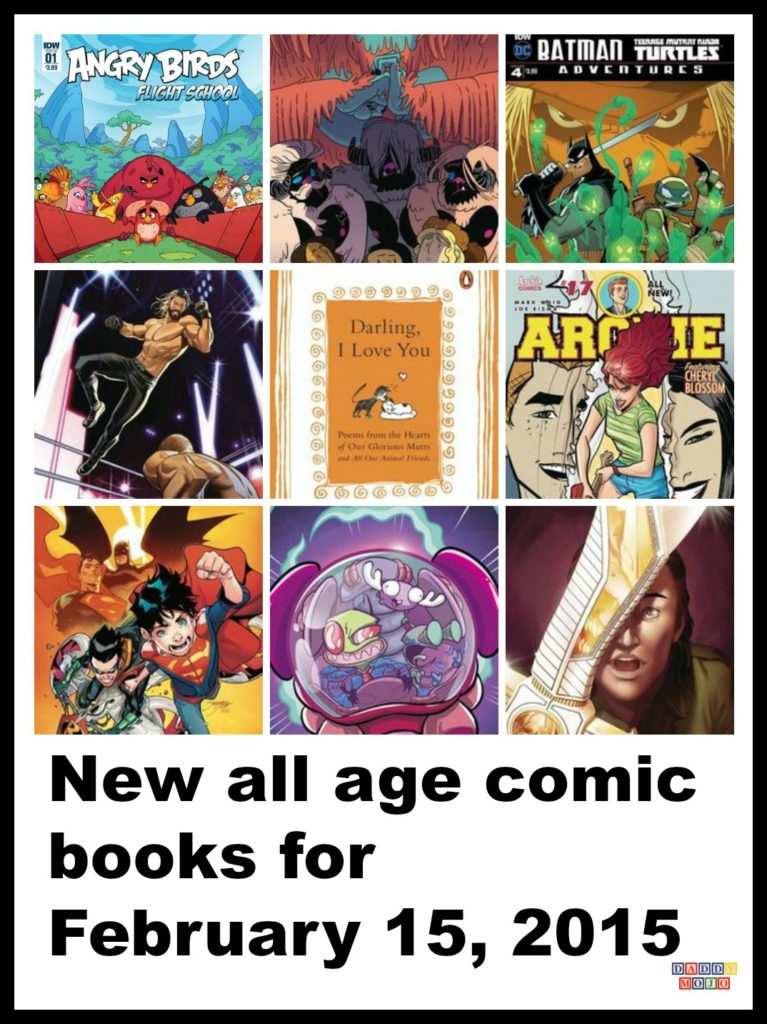 Angry Birds Flight School #1 is a new series from IDW that has birds, lots of birds, many of them angry. What's more, these characters are funny and ages 6 and up will enjoy reading about these feathered folks.
We're big fans of Patrick McDonnell, the creator of Mutts. His art and words melt your soul and warm your heart. Darling, I Love You is a team-up with poet Daniel Ladinsky as they explore the human/pet relationship. It's the classic Mutts characters set to a more poetic than usual background and will be great for ages 4 and up.
Batman Teenage Mutant Ninja Turtles Adventures #4 is out and this mini-series is utterly fabulous. It's super hero action with two great franchises that will be entertaining for ages 5 and up. This is one of the all age comic books that are a great example of exactly how entertaining and impactful they can be to young readers. It has great action and humor, plus enough reading to make it something that enhances the story. Get this comic book for any aged reader and they'll promptly ask for the previous three issues.
Pulling a page from the Muppet Babies, DC Comics has Super Sons #1 out this week. It's the son of Superman and Batman in their own comic book. This is rated T, so have kids 12 and up take a look at it. Another teen comic book is out this week, Kong of Skull Island, but this one is outstanding. It has lots of monster violence that'll be too much for the smaller readers, but 12 and up will love the majestic art and big story line. WWE #2 is great for teen readers too. WWE in comics is a logical connection isn't it? It's a chance to read out to what kid's favorite wrestlers are doing, toss in some out of arena drama and it's good fun for wrestling fans and an action comic too.
The music in the podcast is from The Owl, it's awesome, haunting and the stuff of dreamy, snowy cliffs and fjords.
Humor

Angry birds

Superhero
Action