It was about 20 minutes into Beauty and the Beast when I stopped looking for flaws in the film. It's not that the film is flawless; it's just that it won't matter. People could point out any number of things that didn't work, in their opinion- and Beauty and the Beast would still be a movie juggernaut for ages 5 and older. In the end, Beauty in the Beast is a very good film, countless young girls will have the gold dress that Belle wore in the big dance number and many men will dress up as Gaston or LeFou.
First off, the classic songs used in the original film held up very nicely. They really are great songs and the story that sets up the music is a classic one that anybody can relate to. In this live action retelling of the film there are a couple new songs that aren't as catchy, but they're quickly forgotten and the film quickly moves onto the next one.
My Inner Film Critic Speaks
As a film though, it feels like a television movie at times, albeit with a massive budget, flawless costumes and huge sets. It's been a very long time since I've seen a movie that fades out of scenes. However Beauty and the Beast in several occasions fades out, goes dark for a millisecond and then goes into the next scene. I know that they are not built in commercial breaks, but in what other film have you noticed instances when they fade out?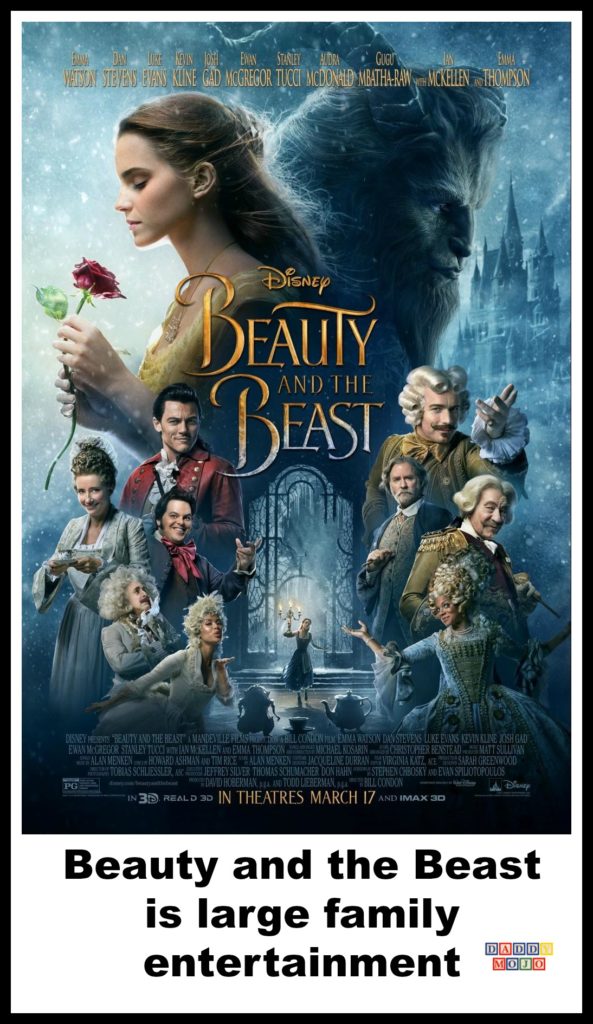 Part of the charm of the animated Beauty and the Beast was that you wanted to love it. The music was great and the film itself was an utter joy to watch. Even today, its heart, joy and passion resonate when you watch it.
The cute Girl Scout who you bought cookies from last year shows up again. Except this time she's got a wagon full of cookies, promotional blimp in the sky, regional den mother watching her from the street and presents her cookies in a polished song and dance. Same cookies, same level of enjoyment, but the initial enjoyment on the second occasion feels forced. That is what viewing Beauty and the Beast was like for me.
The Gay Character
What? A gay character in a Disney movie? Sacre bleu! The hullabaloo about LeFou is much ado about nothing. He's only slightly gayer than the animated version and won't faze your children at all. Don't cancel the Disney vacation because of it. There is some implied gay dialogue, if you really read into it, that LeFou says to his man crush Gaston. There is also a short scene where the talking wardrobe spins out clothing onto some of the marauders invading the castle. One of the thieves grins when dressed up as a woman and this character later briefly dances with LeFou.
The live action Beauty and the Beast is one that you'll love.  My wife loved it. Our 5 year old said, "that's a beautiful Princess" when she was finally seen in her fabulous gold dress. The 7 year old seemed to like it, but never would tell me what he enjoyed about the film. There are a couple wolf sequences that might scare the younger kids, but they're brief and in context. Even me, after that 20 minute film critic took a backseat I relaxed and enjoyed the film too.