For us, Hilda and The Stone Forest is like meeting someone for the first time who we've seen at parties and seems really cool. Then, when you meet them, you realize that they are even nicer and cooler than you thought they were and you kick yourself for not meeting them earlier. I've read a couple of short Hilda stories that were printed on Free Comic Book Day and did like them, but simply never got around to reading one of Luke Pearson's books. That's worth noting because there are some existing characteristics and story elements to Hilda, but they are not necessary to know to fully enjoy The Stone Forest.
The first thing that will grab reader's attention is the art by Luke Pearson. Once you see Hilda you will not forget her. She's immediately memorable and Trolberg, the world where she lives is rich with detail, various sized creatures and a European landscape that makes you want to be a resident there. Each page has art that feels like a comic strip, but is laid out with various sized panels and illustrations. Some of these even overlap each other so as to give the reader momentum as the story progresses. This effect also enhances the creativity and sense of wonder that Hilda has in engaging with her adventures.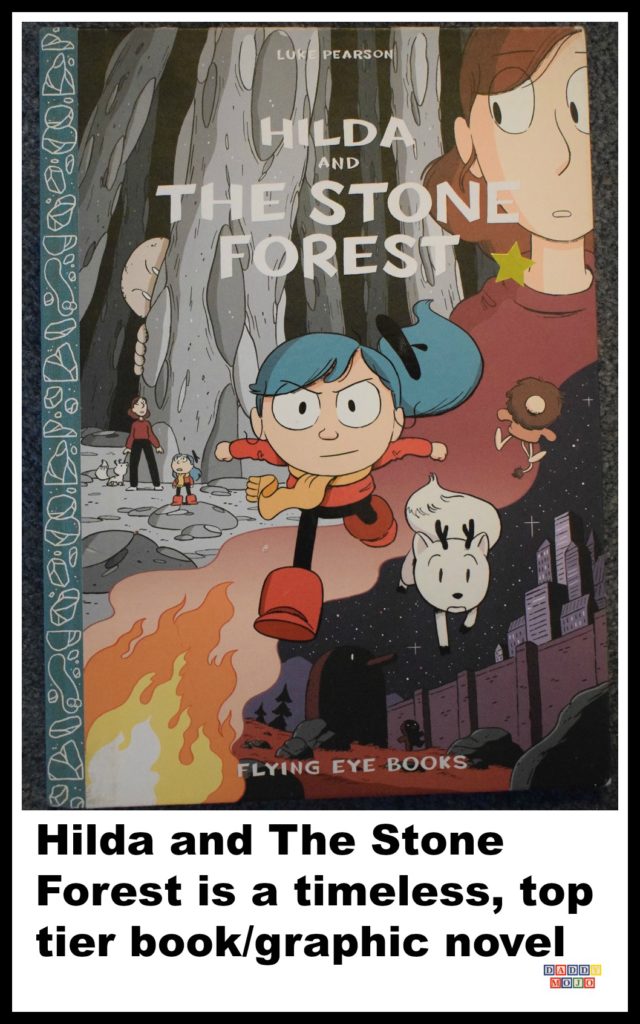 Even the front cover grabs your attention.  It features Hilda and Twig, her deerfox pet who are running over a series of landscapes. The kicker is that the two characters are glossy, whereas their background is traditional colored paper. This effect gives them a 3-D appearance that virtually makes people want to dive into the book.
And then when you open the book you're greeted with a classic seal of arms that says "This Book Belongs To…..". When I first read The Stone Forest I felt as though I was being presented the opportunity to read it, as if there was a queue or initiation process that I successfully passed. I say that in the best, most optimistic way possible. If you haven't read a Hilda book before it feels like an old friend who you haven't seen in a long time.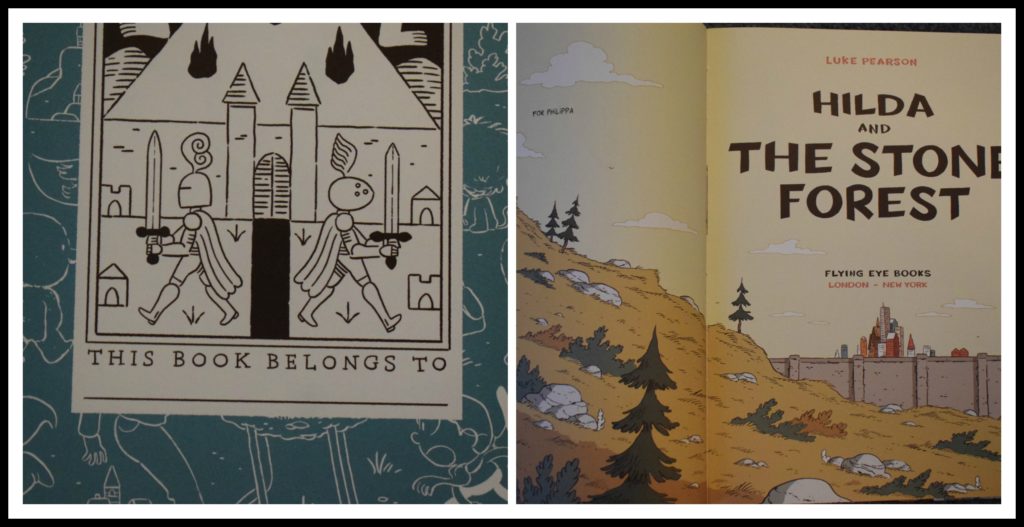 The story in The Stone Forest starts with a run through the forest with Hilda and Twig running through the forest chasing something. It's a teeny tiny white creature, wearing a pointy blue hat that's being run around on the back of an ostrich table looking thing. It's obvious that our blue hat friend doesn't want to be there, but is unable to stop his over eager driver.
From there Hilda sees some stone trolls and encounters all manner of strange, magical creatures. She also gets into a couple arguments with her mom. Hilda is not the best listener and sometimes doesn't pay attention to her. Because of that she gets into trouble, which leads to more trouble and eventually the two of them being lost in a stone forest.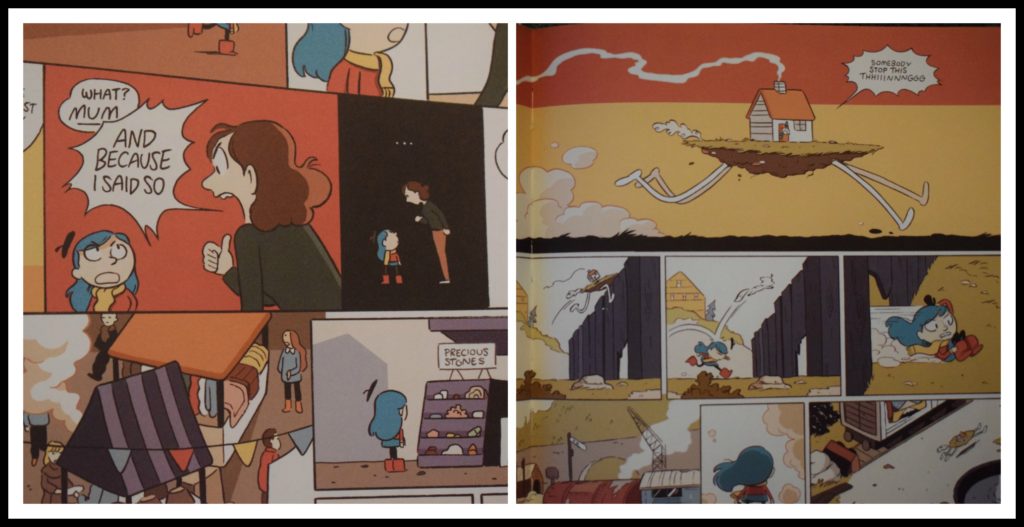 What I found surprising about the book is that despite the magic, trolls and odd creatures, the thing that stood out to me the most was the relationship between Hilda and her mother. For a book that is focused on stone troll, magical forests, danger and mythic times, the Stone Forest is entirely grounded and real.
Hilda and The Stone Forest is a graphic novel as much as it is a book. It is large and oversized like a book, but its content, art and layout feels like a graphic novel or oversized comic book. There are no chapter breaks, but there are a couple stopping points that any age reader will be able discern. The vocabulary in the book is such that a 7 year old will be able to read it by themselves. Due to its length that age will probably need to break up the book into a couple different readings. Ages 8 will probably devour the book in one reading-and then re-read many times.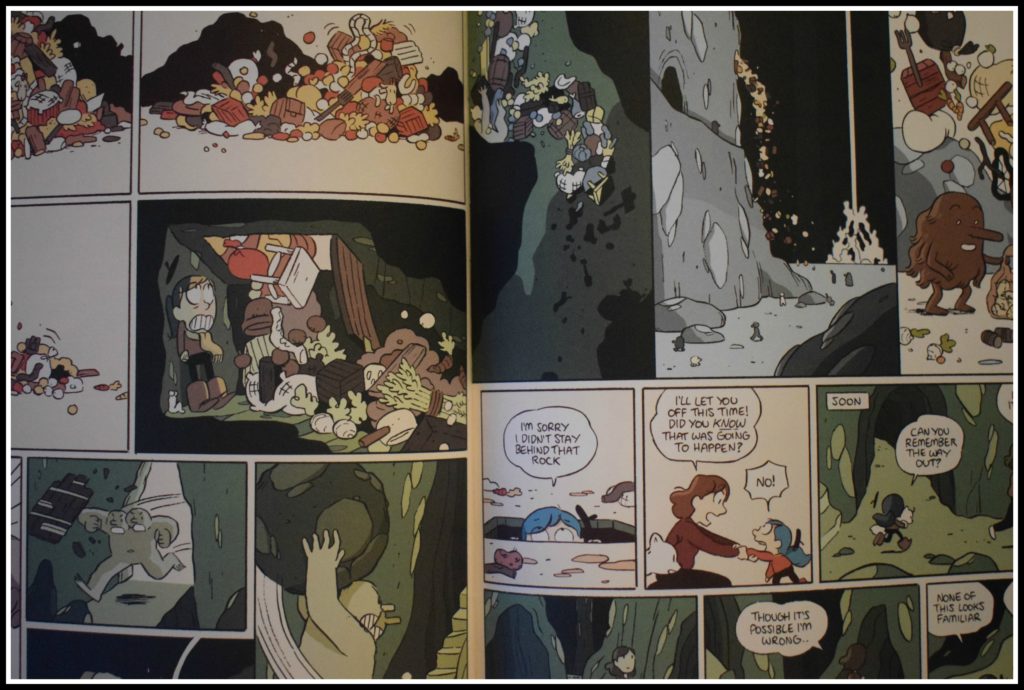 In theory, Hilda and The Stone Forest is for boys and girls equally. Our 7 year old in only into 'boy' books now, but he's missing out. By the time kids decide that they can read a book that has a male or female main character both of them will really enjoy Hilda. I suspect that age is around 9 years old, but if you have a young reader that likes graphic novels, action, folk stories or middle Earth they will absolutely fall in love with this series.
This year you can get a free sample of Hilda on Free Comic Book Day. She is also coming to Netflix in 2018. You can meet her now, on May 6 or wait until the show comes out.