Mosquitoes and ninjas are things that are loathed and loved by children. One can ruin a summer's day simply by hearing its high pitch squeal and the other can capture children's imaginations and eluding everything else. Combine the two into a children's picture book and you've got Mosquitoes Can't Bite Ninjas by Jordan P. Novak.
Mosquitoes Can't Bite Ninjas is a silly book that's seemingly made for summer and those young readers who are 6 and under. The entire book takes place in a neighborhood with a sneaky and hungry mosquito looking for his next prey. We see the swimmer, chef, old lady and baby all being bitten by everyone's go-to summer buzz kill, the mosquito.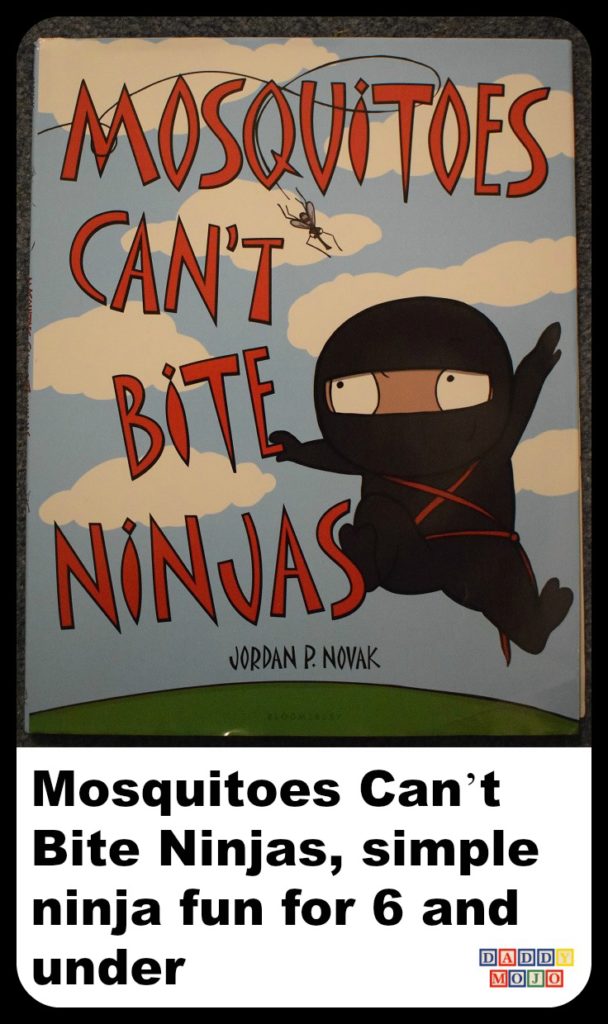 That is until the mosquito sees the ninja quietly napping under a tree. It's then that we discover that every attribute that the mosquito has the ninja has more of. He's faster, more creative and able to climb up the side of a building just in time to elude the bug who crashes into the bricks.
Near the end of the book we meet the ninja's baby and learn that ninjas do not bite people. Ninjas learn not to bite people when they're babies. Ninja babies use a ninja teething cookie is another fun fact we learn about these agents of stealth. Although, sometimes ninjas do bite mosquitoes, but that's by accident when they fly into their peanut butter and jelly sandwich.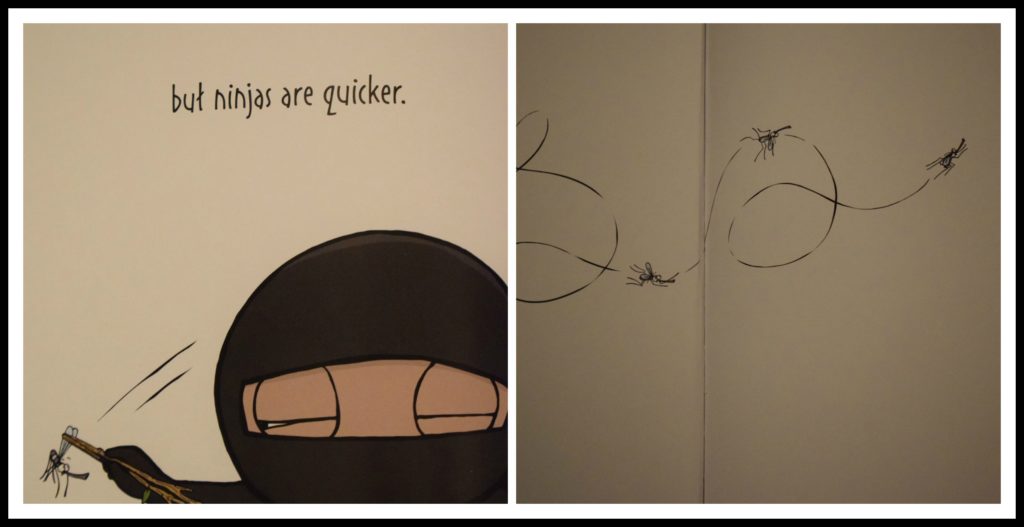 That is one of the curves Novak uses to twist things up. Some of the great children's books throw in an absurd pun, play on words or visual gag to make young readers laugh. Even at 3 years old that age knows that ninjas shouldn't eat mosquitoes. They also know that ninjas aren't lurking in their backyard using intricate moves to not get bitten by bugs, but it's fun to imagine.
The book is along the thought process as If You Give A Mouse A Cookie. Of course you would never give a mouse a cookie, but the why you would even think of doing so is entertaining. Likewise the possibilities of what a ninja wouldn't do are limitless and it has several avenues for more fun books.
It's that reason that kids 2-6 will like reading Mosquitoes Can't Bite Ninjas. The book is loaded with big illustrations, which have lots of movement as the two main characters go about their cat and mouse game. The vocabulary in the book is such that first graders will be able to read it with minimal assistance.