Podcast: Play in new window | Download
It's just over three weeks until Free Comic Book Day. That is May 6th at your local comic book store where they'll have lots of free all age comics, they're new, some are full size, some are mini-comics and each store will probably limit you to 5 per customer. So what's new this week for young readers? Two of our favorite all comics are out this week, as are lots of superheroes and the final issue of a really cool princess series. Here are five of the more interesting or go-to all age comics that your young readers need to know about.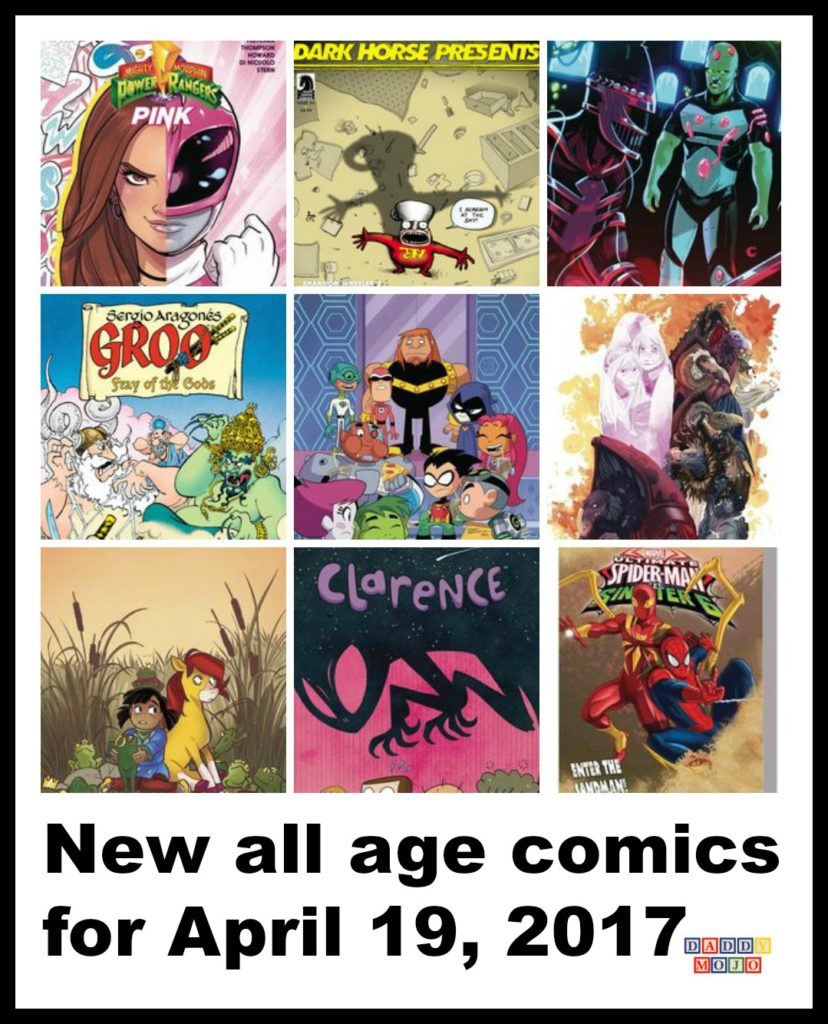 Mega Princess #5
It's a princess tale where she saves the frogs who had previously been princes. Mega Princess is from Boom! Studios and is loaded with laughes, goofy action, just enough evil to latch in older readers who will enjoy this series. This is issue #5, the final one in this mini-series and is appropriate for ages 5 and up.
Dark Horse Presents Volume 3, #33
Too Much Coffee Man made us do it. Dark Horse Presents Volume 3, #33 is an anthology with six short stories from creators that few kids will know, but adults will appreciate. This comic is for teens, but it's worth mentioning due to Too Much Coffee Man by Shannon Wheeler. This comic is in the same league as Life In Hell because its droll, effective humor and variety in presentation. Adults will love the humor in this character if they're not already familiar with him.
Justice League Power Rangers, #4
This is easily one of the best all age comics of the year. The action that happens in Justice League Power Rangers is OK for ages 6 and up, with vocabulary that age 7 and up will be able to read on their own. It's also refreshing to see the Power Rangers hold their own with a franchise that often steals their limelight
Teen Titans Go!
The Titan's tower has been condemned and Control Freak is up to no good. Where can the team hold up? Our 5 and 7 year old kids love this show and the comic book. Teen Titans Go! is only $2.99 and from DC Comics
Jim Henson's Power of the Dark Crystal
Jim Henson's Power of the Dark Crystal will most likely not be your child's favorite all ages comic. However, it is one of the best all age comic books. This is a 12 issue, fantasy mini-series from Boom! Studios that will be attractive to middle Earth kids who are 10 or older. The art in this comic is top notch and one that fans of the Dark Crystal will immediately bond with.
The music from Free Music Archive that's used in this week's podcast is from Julie Maxwell's Piano Music. She also does some cosplay, translates Japanese, is a photographer and entrepreneur. Now-on with this week's all age comics!
Humor

Superhero
Action/Science Fiction