Know your role. My wife and I use that phrase as a way to slyly accept our greatest strengths and to play to them. In our case it's not meant as a pejorative, rather a rallying cry to do something, establish a goal of doing better, as well as a subtle reminder that we can't be great at everything. Smurfs: The Lost Village knows its role. After two previous films that brought the Smurfs to the big screen in a CGI/live action format, Smurfs The Lost Village is 100% animated.
It's good animation, visually on par with a major motion picture. Because of that it looks world's better than the TV counterpart that old school fans will remember and even the 2013 television short, The Smurfs: The Legend of Sleepy Hollow.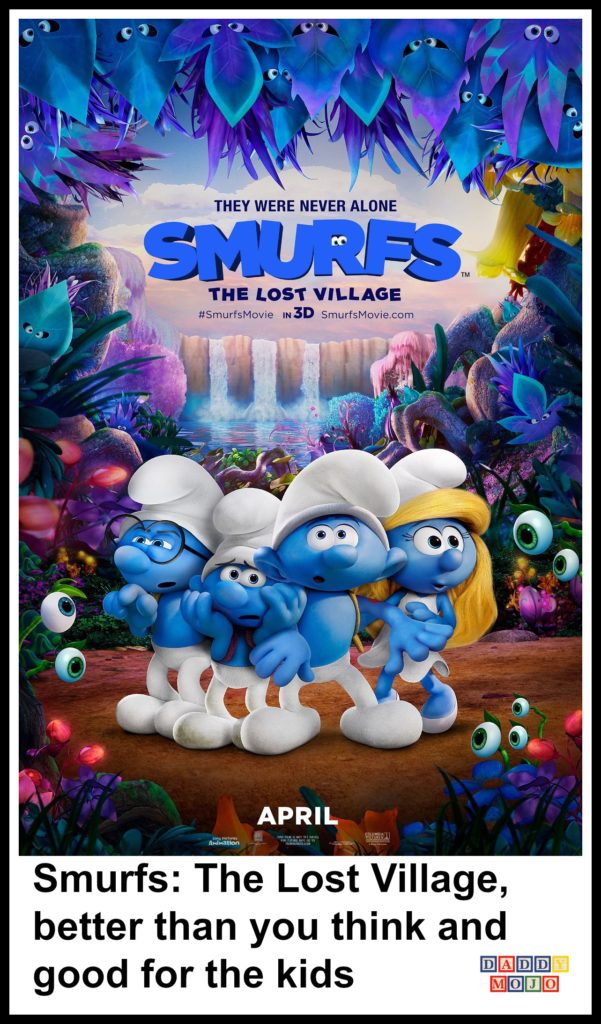 Smurfs: The Lost Village is all about Smurfette and a mysterious area that the Smurfs are not supposed to enter. Alas, Gargamel has other plans, as he usually does and plots a scheme to trap the Smurfs and see what's so secret about the forbidden zone. Spoiler alert: said forbidden zone is an area where only girl Smurfs live, which is the exact opposite of the semi-exclusive all boy Smurf village that audiences, heretofore, have known.
This is not a film that will make adult audiences laugh out loud. It does not have the same cross-over appeal as other animates or CGI films that are aimed at the family market. Having said that, it doesn't have to as it hammers the pre-k through second grade audiences very effectively. Our 5 year old pre-k son was laughing hysterically at many parts of the film. I mean full on, pointing at the movie screen, unable to control his laughter and then telling me about what he had just seen.
His 7 year old brother found the film very funny, but not to the same degree as he did. Smurfs: The Lost Village is rated PG, but just barely so. There are a couple chase sequences where the cat chases the Smurfs and a buzzard swoops down from the sky to try and snatch them up. Sure, it's rated PG, but there weren't any instances that scared our children and they're quite sensitive to movie thrills.
This is fun, better than average PG movie fun that kids will enjoy. Parents will enjoy watching the younger ones enjoy the film and sometimes that's all a family needs from a movie. See it as a matinee, the $1 theater or catch it once it's available at home and they'll have a breezy, fun 90 Smurf minutes. Know your role, even if it's a better overall package that's aimed at children. This is a step in the right direction for Smurf. Their worldwide appeal and comic potential for young children is undeniable. Thankfully since it's been four years since the last Smurfs film their key audience either won't remember it or wasn't born then.