The Adventures of Kung Fu Robot is the online comic and game that your kids (or you….) might have been playing. From the retro feel to its manic action it was only natural that it make the transition to graphic novel. The Adventures of Kung Fu Robot, How To Make A Peanut Butter, Jelly & Kung Fu Sandwich is out, and it's out with a twist. It's from AMP! Comics for kids and retains the bright colors and style that fans who loved the online comic, but it also has interactive elements to wow the crowd who are coming at it from a book perspective.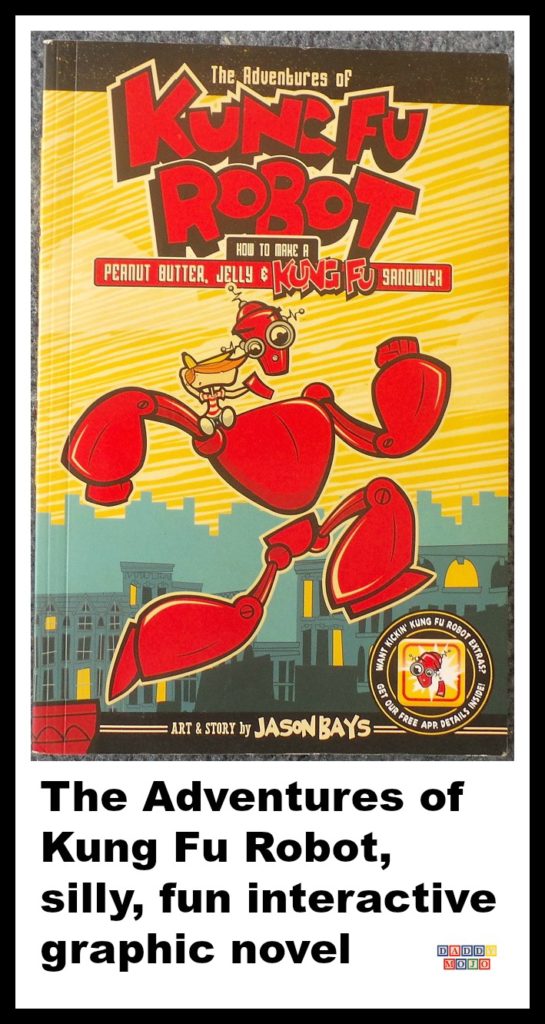 As a graphic novel, Kung Fu Robot, How To Make A Peanut Butter, Jelly & Kung Fu Sandwich is the story of a boy, a robot and their mutual love of PBJ sandwiches. Mix in a massive peanut butter shortage, android ninja robots, plungers, lots of silly action and you've got a cute graphic novel that will entertain kids 6 and up.
Now, factor in the 'interactive' elements of Kung Fu Robot. There's a free app that you can download that allows readers to engage Kung Fu Robot with Kung Fu Vision. With the app open you look over the pages in the book and on take part in over 30 activities that are new and exclusive to the book. These include games, puzzles, music and oodles of never before seen content. This works with Apple or Android devices and each app is available in the app store or on Google Play.
Comic book fans don't need the app or technology to enjoy Kung Fu Robot, but it does enhance what kids will get out of it. However, fans of Kung Fu Robot are used to technology and will readily make the jump from an online comic to a physical graphic novel. If anything, this book is better suited for existing fans of Kung Fu Robot so that they can use the app in tandem with the book.
But enough about the technology –will kids like The Adventures of Kung Fu Robot? They will. Each page is riddled with color and movement. How To Make A Peanut Butter, Jelly & Kung Fu Sandwich-combined with the app, is something that they'll want to revisit over and over. As a stand-alone graphic novel, fans of Kung Fu Robot will readily enjoy it, but it's unlikely to be a book that kids who are new to the characters will immediately fall in love with. However, combine it with the app and the former category will get it and understand things much quicker. It would also help if you read the last two pages first. Those pages tell readers what to expect when the app is downloaded and opened whilst reading the book.