The reviewer has been compensated in the form of a Best Buy Gift Card and/or received the product/service at a reduced price or for free.  STEM is where it's at. Parents with kids in elementary through middle school have been hammered with the memo that any aspect of STEM (science, technology, engineering and math) will be a huge part of their life and success. To that end, Dash is here to help children aged 6 and up become excited about technology and coding to a level that makes it one of the best children's computer products we've ever seen.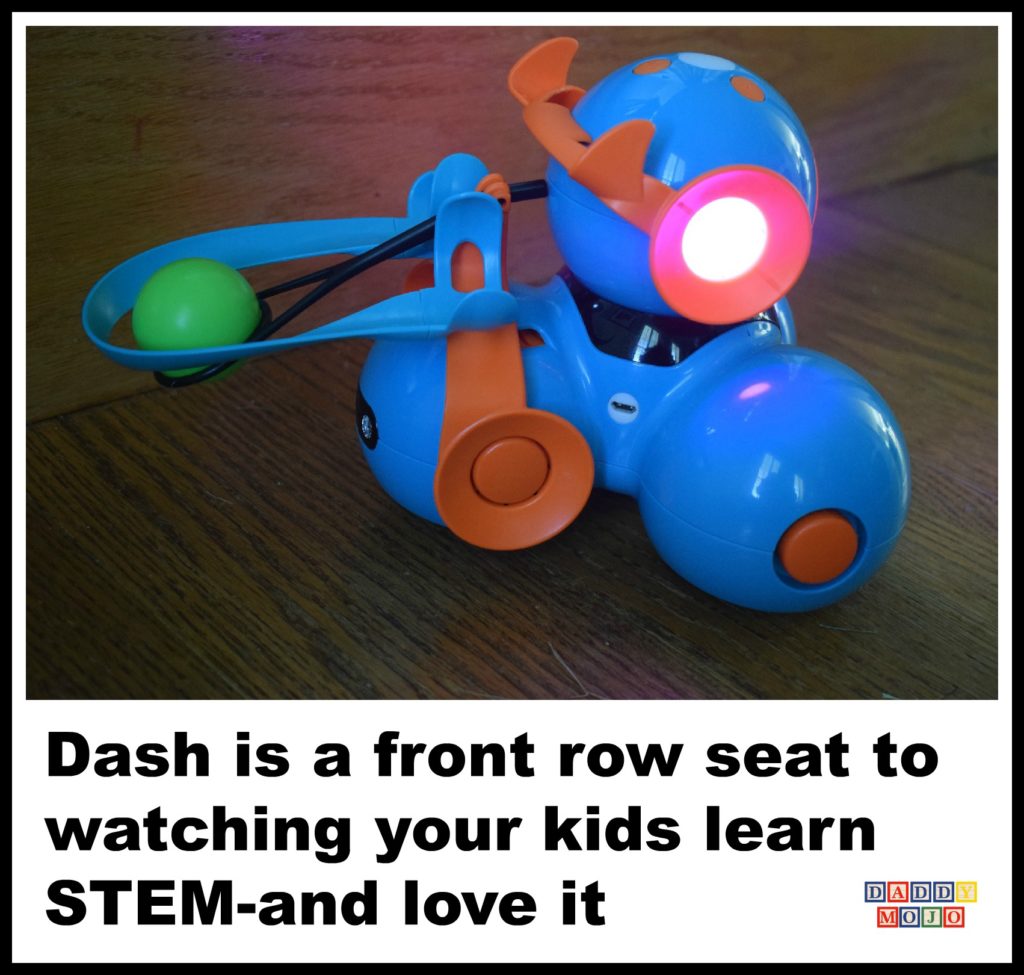 Dash is a cute, turquoise robot with three connected spheres to make up its bottom and a rotating head on top. It can say simple phrases, make a couple animal sounds and is 100% controllable via the free Apple, Kindle or Android app. Dash is as much of a toy as it is a computer and tool for learning building blocks of coding. In this sense I'm using the word 'toy', as something that kids will actively want to do and use. Are they learning the processes and building blocks for coding, laying curiosity seeds for advanced mathematic principles and more that will help them in the long run?
Yes-oh yes, they're learning these things in the most sublime and covert way possible. They're having fun. On its own, Dash works as a coding puzzle type tool. Simply turn Dash on once the app is open and start playing. You'll see Inventor's Log, Wonder Cloud, Controller, Free Play and Scroll Quest. These are four areas of play, plus the Inventor's Log where you can keep track of what skills you've learned through Dash.
Our 7 year old first discovered Wonder Cloud. This teaches the basics (as I know them) about the stops of coding. From the words of a non-coder, kids will learn that each command you want Dash to do requires a request, go, turn light on, turn light off, turn around and so forth. These skills are taught via a series of short, achievable exercises that build upon each other in different zones of Wonder Cloud. He was killing it until he hit one challenge that has him bogged down and unable to accomplish it.
Then he started playing with Dash's Turquoise Launcher, a ball launcher that attaches to Dash's wheel. After clicking over to the Launcher mode in Controller you'll be guided through the steps of getting Dash to throw the ball. Getting Dash to throw the ball into the provided target or something else you choose is challenging. It requires patience, lots of moving forward, backward, judging distance and eventually firing off the ball from the launcher.
Even our 5 year old started to get in on the action. He saw his brother playing around with Dash and the launcher. Then he patiently waited for his turn. Initially we were pleased that he waited, but as we watched him manipulate Dash via the app we were encouraged that he was really getting it. Eventually, after several times moving the robot back and forth with his finger, via the app, he landed this shot and the excitement on his face says it all.
href="https://twitter.com/WonderWorkshop">@WonderWorkshop Dash is utterly fantastic. The 5 YO, yes a 5YO is playing and loving it. #STEM pic.twitter.com/V98eUPM9l0
— Trey Burley (@Daddymojo) June 18, 2017
There are hundreds of projects and puzzles that Dash can accomplish. Add to that fact that kids have endless avenues for fun with freeform play and you have that rare 'toy' that will grow with your child and be with them for years. Dash can be as simple or as challenging as you allow it to be.
Dash is nothing short of revolutionary when it comes to teaching children the processes and strategy that goes into coding. It's one of the three best products we've ever reviewed here on Daddy Mojo and is priced appropriately at $149.99, the dash launcher is $29.99 and Xylophone is $39.99 and is geared for children 6 and older.
Yeah, that's not cheap, but this is a computer that teaches skills to children that other hardware can't. It's a tool that will teach your kids for years to come in a way that a laptop or CPU can only allude to. It brings the 'play' to them in a way that lets their STEM skills present themselves without even knowing that they have these skills. I was shocked when I saw how quickly our 5 and 7 year olds took to moving Dash around and the joy that they had when they accomplished something.