The story of Cinderella is timeless and offers lots of avenues for twists. That is important especially when your audience might have short attention spans. Cinderella Della Circus has roots in the classic tale, but also offers up some strange twists and bigger laughs than some in the audience are expecting. It's appearing at Center For Puppetry Arts in Atlanta through July 23.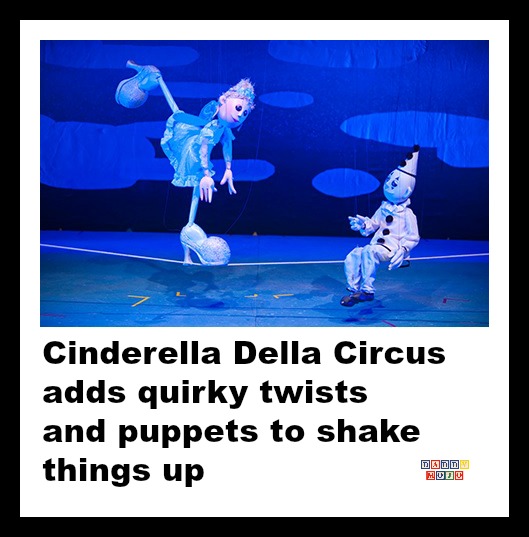 Cinderella is still Cinderella, except in this version she's part of a circus. Unfortunately for her, the kind manager of the circus travels to the moon with Jules Verne and assorted other characters. Now Madame Bullie is in charge and three daughters have assigned Cinderella to clean. Cinderella also has really, really large feet.
While all of this does sound familiar, it's just the outline that audiences will recognize. The Prince actually has a relative, who is a mime and just as seemingly left of center as Cinderella. There's a moon monster, elephant and a Stretcho. For our 7 year old-and most of the crowd Stretcho brought the majority of the laughs. He's a strange creature that can stretch his neck, arms or legs and is accompanied with his own theme song.
Cinderella Della Circus is targeted to audiences 4 and up. As with any show at Center For Puppetry Arts there are special events to accompany the production. After each performance attendees can go to the Create-A-Puppet Workshop where they can make their own Stretcho. In this case it's a rod puppet and kids will sing his intro music every time that they play with it. July 15 is Marionettes Day where you'll learn how to use a scarf marionette. July 22 is Bring and Bedazzle Day where kids can Bedazzle their shoes. They'll even have new shoes for sale from Shoe Carnival at 30% off, just in case you want to Bedazzle a brand-new pair of shoes.