Podcast: Play in new window | Download
Happy July and lets jump into the new all age comic books that kids as young as 5 can enjoy. If you live in the northern hemisphere here's a great reason to visit a local comic book store-it's air conditioned. And if it's like our local comic book store they sell sodas for .75, so go hot and hydrate when before you leave. To find your local comic book store simply dig into Comic Book Store Locator and type in your zip code. The all age comic books this week are super, lot more superheroes than in previous weeks, plus some cool Doctor Who books, Hero Cats, Star Wars, Riverdale, DC Super Heroes and more.
Gumby
Fans of a certain age will say something spicy when they utter Gumby's name. In this instance, Gumby is a new all age comic book, with classic appeal-but don't tell the kids because those as young as 5 will love it. These are new stories from everyone's favorite green character (don't tell Kermit) that bring the old school character to today's new school readers in a format that will make parents enjoy it as much as the kids they might be reading to.
DC Super Hero Girls: Katana At Super Hero High
Is this the summer of DC girl super power or have audiences finally caught up with it? DC Super Hero Girls is the latest in a series of graphic novels that feature the DCU girls in high school. These are original stories and art by Lisa Yee and they just keep getting better. Katana at Super Hero High features everyone's favorite noble warrior as she's assigned with guarding hundreds of sacred ninja swords. Her friends help out to teach everyone a lesson, have fun, kick butt and get kids interested in reading. This series is great for ages 7 and up to read on their own, but can be read to ages as young as 6.
True Believers: Spider Man
There was a popular tweet this week that said that Spider-Man is for kids period. To an extent that is true, let's not quibble about the exact age and say that kids 7 and up will love True Believers: Spider-Man Brand New Day. This is a reprinting of Amazing Spider-Man 546 from 1999 and is great for that age and older. Everyone will love the True Believers price point of $1, so jump in and get the kids hooked on some old school Spidey.
Pokémon Omega Ruby Alpha Sapphire
Our 7 year old is all Pokémon-all the time. He's been going to the comic book store since birth, but he's only recently discovered the Pokémon books. In our local comic book store they're with the all age graphic novels, but your local store could keep them with anime or manga. Either way, they're one of the best bangs for the buck that you'll purchase. They're thick, cost $4.99 and kids 6 and up will devour them.
Star Wars Dot To Dot Book
Dot to Dot books are another thing that our 7 year old is really into now. Thomas Pavitte does some fabulous 1000 puzzle challenges for Marvel, like GOTG, The Avengers and Spider-Man that he's been doing and loving for the past year. Now Disney is getting into the advanced game with Star Wars Dot To Dot Book that has over 1,000 dots on every puzzle. Technically these books are geared towards the YA audience or adults, but if you have a puzzle kid then ages as low as 7 will love these challenges. If you've never done one of these you should be prepared to use a magnifying glass. Our child doesn't need them when he doing one, but I need it whenever I do them.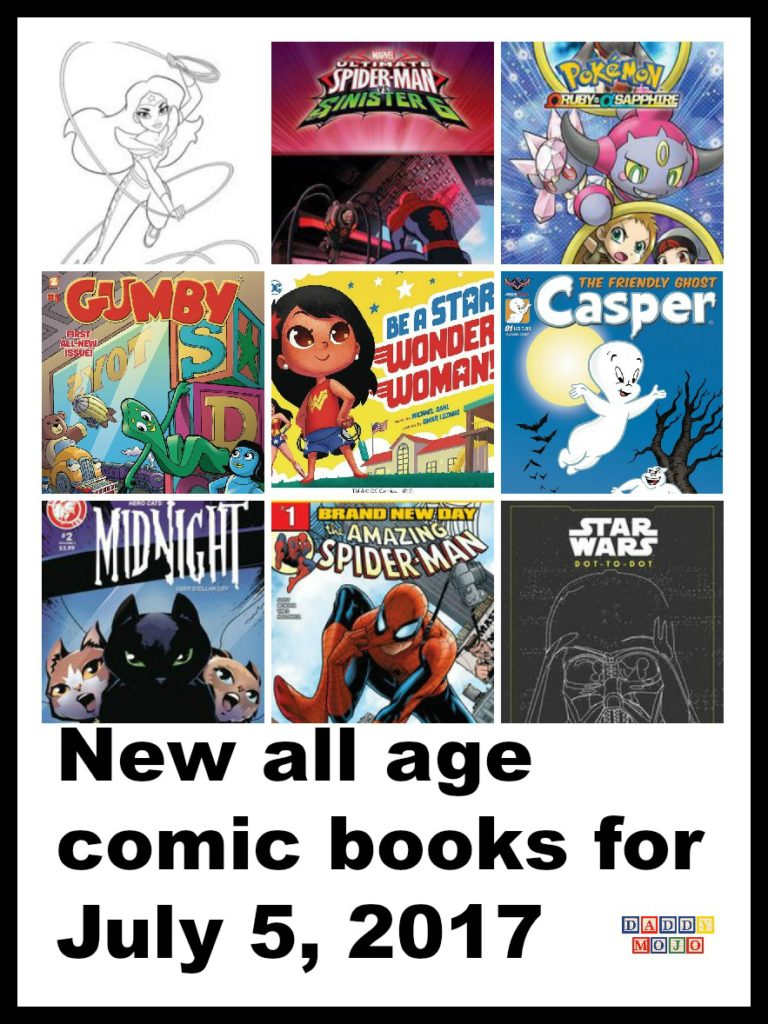 Humor
Superhero
Action/science-fiction