We're part of the StreamTeam for Netflix and were compensated for this post-all thoughts are our own. With school starting for the vast majority of students in the United States let's take a look at some of the education options on Netflix for elementary school aged kids. These are all shows that either of our 5 or 7 year old kids could watch. Some of them skew younger, but we'll detail the ages and why it's good for them.
Brain Games
Brain Games is for the older elementary school kids. There is nothing wrong with the content for younger kids, it's just all education. This originally aired on the National Geographic Channel and is about the power and mystery of the mind. It's fascinating because it has various optical illusions that you know where the answer should be, but people (and you) make the incorrect decision.
Ask The Storybots
How do airplanes fly? How does night happen and more are discussed in this very cute show for young elementary school viewers or younger. It's hosted by digital characters with the assistance of various animation and is very cute. It's funny stuff that will engage young viewers into learning something even when they just want to relax.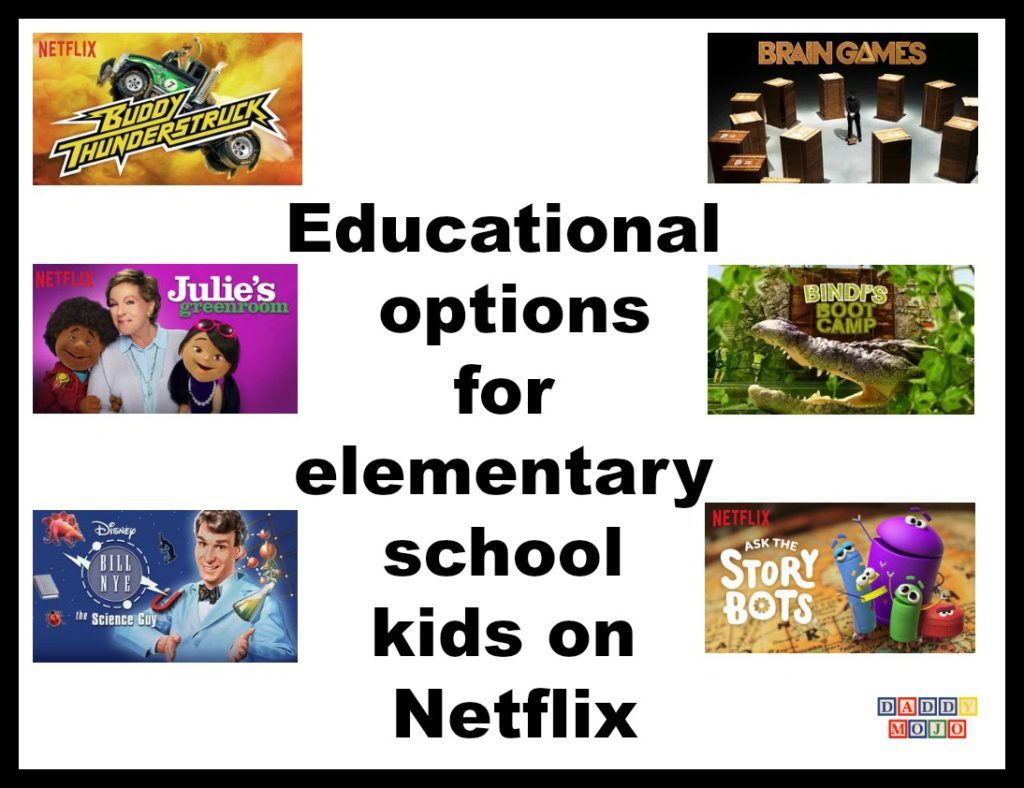 Julie's Greenroom
Think Barney but with more variety and just slightly older. Julie's Greenroom stars the legendary Julie Andrews, a host of puppets and various other humans to help teach ages 5 and younger. Kids older than that will find the series slow, but pleasant. However, that kindergarten and pre-K set will find that Julie's Greenroom is just the TV comfort food that they need as they learn about being a nice person.
Bindi's Bootcamp
There is no shortage of animal shows on Netflix, but Bindi's Bootcamp has the hook in that it stars Bindi Irwin. Three teams of two compete in wildlife challenges that test their animal knowledge and stamina. The teams consist of middle to high school aged kids, but the content will be appropriate for elementary school kids that want to learn more about nature and have fun whilst doing it.
Bill Nye, The Science Guy
Before mentioning anything one way or another was a political lightening rod, Bill Nye was teaching kids about science. Season 1 of Bill Nye: The Science Guy has shows on digestion, light optics, the sun, motion and many other topics. This was all science, education and fun that was aimed at kids. While Nye's look might have aged a bit, his ability to talk to kids about science in a way that they can understand has not.
Buddy Thunderstruck
Is Buddy Thunderstruck educational? We'd be stretching it to say that it's education, but it's so much fun that we have to mention it. This show gets funnier the more you watch it and is a reward for our five year old after doing something good or simply needing some fun TV time with dad.
.