Mighty Jack is back! If-and when they turn this graphic novel series into some films that'll be the catch phrase for Mighty Jack and The Goblin King. If you're a fan of Zita The Spacegirl graphic novel series or the first book in this series, Mighty Jack, then you've already ordered its sequel, that's coming out on September 5. Even if you're not in the loop on this series here's why it'll immediately attract your young reader.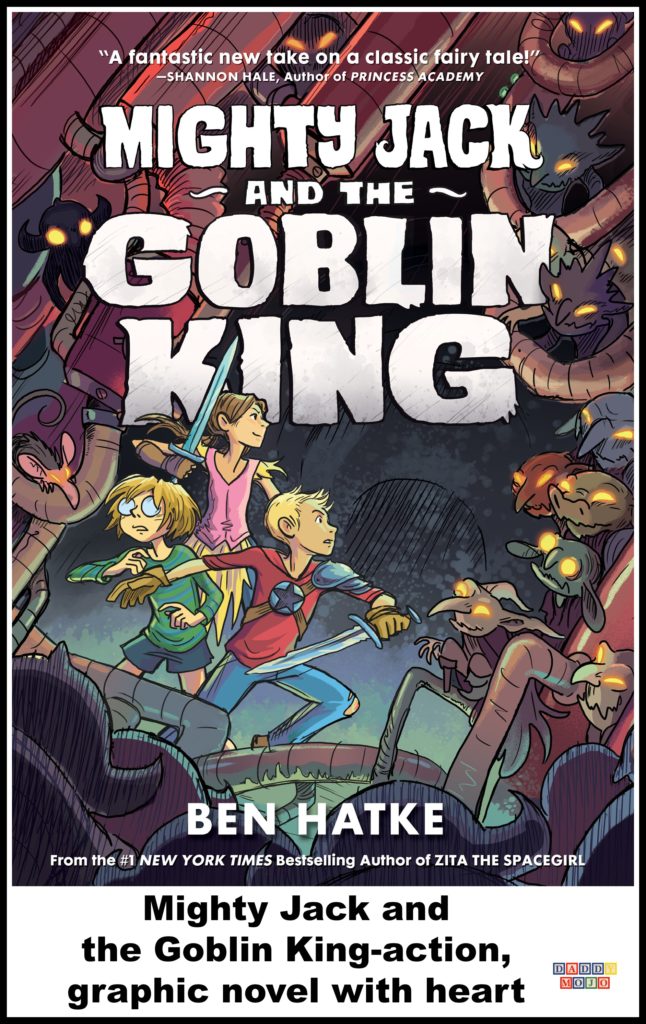 "I read it, do you have the next one?" our 7 year old asked. I was slightly taken aback as I had just given him Mighty Jack and the Goblin King a couple of hours ago. He is a reader, but he normally gets distracted by shiny objects, his younger brother or questioning me about Pokémon cards.
I doubted if he had indeed read it so I asked him some questions. While he flubbed the names on the characters, he correctly and excitedly told me all about the lost sister (Maddy), heroic girl (Lilly), nice guy hero (Jack) and proceeded to describe many of the monsters in the book. It was the quickest he's ever read a book, in this case a graphic novel, of this length. Moreover, he immediately dived into Mighty Jack, the first book in the series by Ben Hatke.
If you've read Mighty Jack, here's what you need to know about Mighty Jack and the Goblin King. It has much more action, brighter colors, bigger plot twists and does it all while maintaining the charm and heart of the first book. It also picks up immediately after that book ends. Jack and Lilly are climbing a series of forest green vines out of giant rock pit. A few short panels later they emerge, only to realize that they're on a small moon sized rock, floating in space and see Maddy being carried off by a giant troll monster.
Jack starts out after them but immediately gets slapped down by a giant knight protecting the vine bridge that the troll just set out on. Bad news: Jack is a 105 pound Earth kid and this knight is six stories tall. Good news: Lilly has some of the plant smoothies that the two used in the first book that makes them immediately stronger and taller, for a short period of time.
The Goblin King is the second book in the series, but you don't have to read the first one to immediately understand what's happening. Like any good person in sales the characters proactively question the other characters in an effort to clue in first time readers. "We've got the plants, right? Those smoothies we drank? We're stronger, faster" Jack asks Lilly before launching into battle.
Readers will be surprised at the amount of heart, family and emotion that a science-fiction graphic novel about trolls, goblins and three-Earth kids has. Jack has a couple moments of doubt, seemingly impossible odds, acts of courage and growing up. He even manages to muster up enough courage to kiss a girl-while they're on his mother's front porch no less.
There is also a great amount of action in The Goblin King. There are a couple panels where Jack or Lilly stab a creature and blood is seen, as well as, countless scenes of action, peril and imprisonment. Ages 7 and up will be fine with any of the images in the book and that age will most likely be able to read all of it on their own too.
Without giving away the ending, it ends in a similar fashion as the first book. However, in that grand reveal readers who are familiar with Ben Hatke's work will recognize and appreciate who is in there and how it's handled. Sure it sets things up for another book, but it does it in the same manner as the end of the Back to the Future. "Roads, where we're going we don't need roads", that's a great line that leaves audiences looking forward to the next installment. The Goblin King does that in its own way, but with more monsters and teen heroes.