Size doesn't matter, but sometimes it helps. Sea Monkey & Bob is an early reader book from Aaron Reynolds with illustrations by Debbie Ridpath Ohi. It's about a Puffer Fish and a Sea Monkey. They're swimming around the sea, talking about their fears, specifically, one is scared that they're going to sink while the other one is nervous about floating. Can you guess which animal has which concern?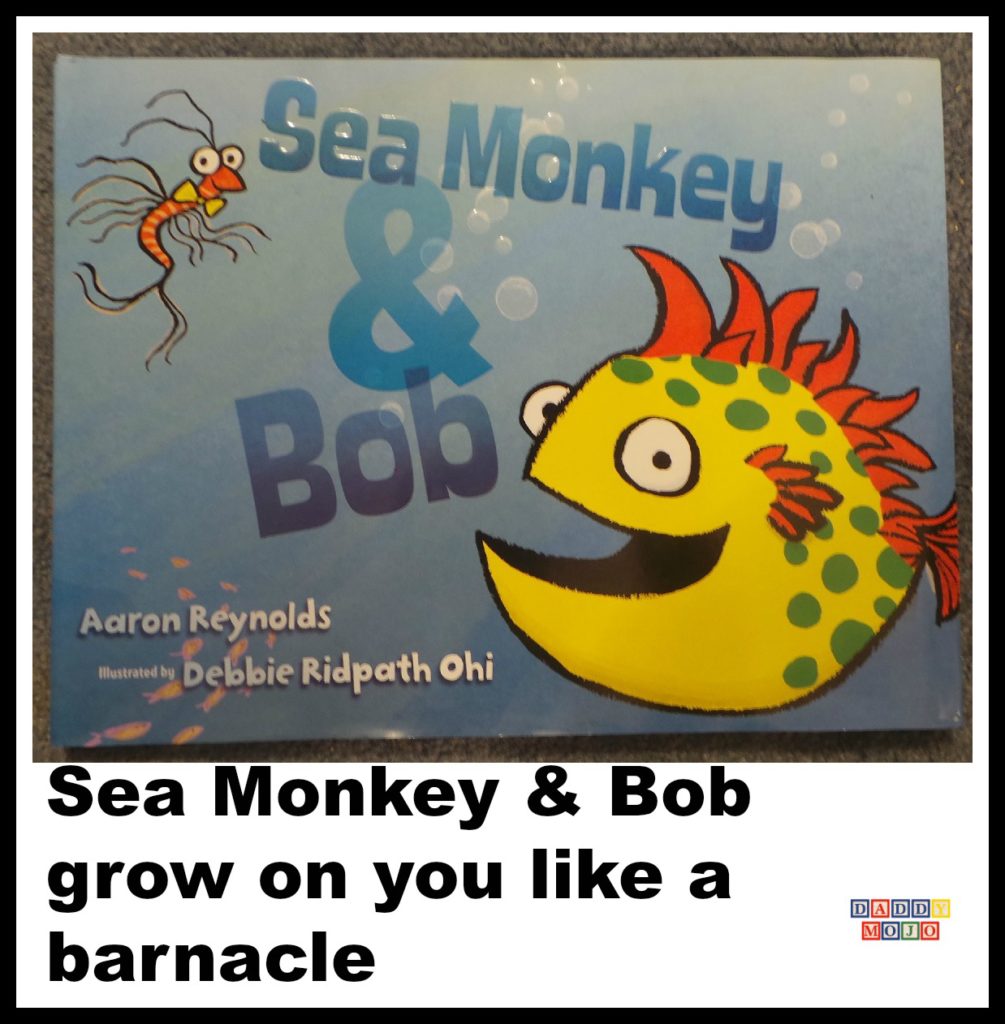 Of course, the Sea Monkey is scared that he's going to sink-all the way to the bottom of the dark, scary ocean. Bob assures him that he won't sink and the two go about talking about what things will sink. They determine that an anchor will sink because it's heavy, but so do dinosaurs, even though the two have never seen one.
However, in working through Sea Monkey's fear of sinking, Bob has started to feel nervous about floating all the way to the surface where there is more air than water. They talk about the fact that feathers float and they're very light, but also that pumpkins float and that they can be very heavy.
The two friends work themselves into such a tizzy that Bob sucks in lots of air, thus realizing the fact that he's a Puffer Fish; and Sea Monkey panics because it thinks it's going to sink. In a moment of clarity, the two friends simply grab each other's fins and tail and they realize that when they do this they will neither sink, nor float.
Sea Monkey & Bob is a picture book that took a while for our five year old to appreciate. Some books he immediately latches onto and wants to re-read several times before bed. This is more of a slow burn book, with a dry sense of humor that children will laugh at, enjoy and appreciate the more that they read it.
One fact that is in the book's favor is its size. Sea Monkey & Bob is a huge book. It's bigger than most books that are aimed at pre-K to early elementary age kids and its size makes it stand out. The art by Debbie Ridpath Ohi really has space to breathe and allows the characters to take up as much or as little space as they want. On some pages Sea Monkey and Bob are small off specs in the distance and on one page Bob is huge and readers can only see the top of his head. The last page in the book is very clever too as it shows the two fish still in the water, but from the reader's perspective of just outside. Bob is a more muted yellow, we see other fish from the top and the water itself is duller than the vibrant colors we experience in most of the book.
Sea Monkey & Bob is a book that kids three through eight will enjoy. First through second grade kids will be able to read it on their own, as well as, practice their 'does it float' drills that start doing in science lab then. The younger ages might need help turning the pages because the landscape format of the book is bigger than what they're used to.