I've always envied cartoonists that did one panel strips. They have one square or circle to make readers grin, laugh or think about something. Sometimes you get it, sometimes you don't, but the sheer creativity and pressure those artists are under to do it is impressive. Today I Feel…. An Alphabet of Feelings by Madalena Moniz manages to do the same thing, but does it through the A, B, C's of emotions that elementary school children will encounter.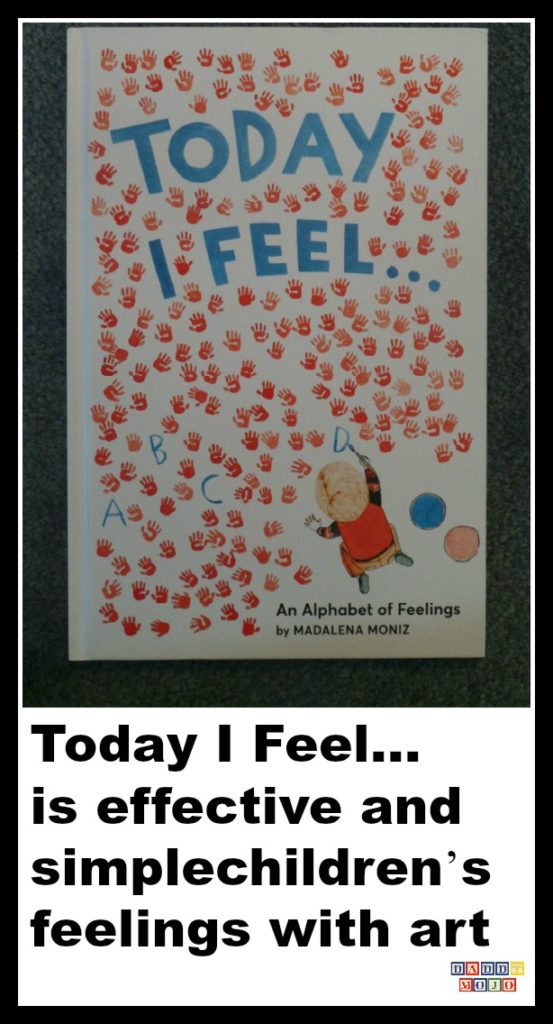 As a good-night book or read-along book for pre-K students or younger Today I Feel… is effective, but might need supervision given its pages.  The book is printed on slightly thicker than normal paper for a children's book and not a board book format that some families might be used to for an ABC book.
Rather, these emotions are slightly more advanced and the pictures of the boy illustrating them are more sublime or not, depending on the way he's feeling. For Kind, he's sitting on the shoulder of a giant and the "K" is filled in pictures that a typical kid would draw. Patient has the same boy doing a massive floor jigsaw puzzle. Invisible has him blending into the wall because the sweater he's wearing is the same print as the wall paper. Heroic has him jumping down from the sky with his superhero-esque cape billowing in the wind behind him.
Today I Feel…works because the words are intelligent, big words that aren't normally associated with alphabet books. The art that accompanies the letters is just perfect. Brilliant and Grumpy are two of our favorite examples of how well it works. I have no idea how I'd create a one-panel illustration for brilliant. Moniz manages to perfectly capture it by placing a silhouette of the boy against a sea of stars in the night sky. Grumpy does the same thing except showing the boy in the shower. He's having a pity party for himself, being grump and readers are simultaneously sorry for the boy being grumpy, wondering why he's in a bad mood, know they've been there before and hope that he'll get out of it quickly.
Is there such thing as a coffee table ABC book? Today I Feel… is the king of coffee Table ABC books. Similar to AlphaBlock, it's a great testament to the fact there are creative and fun ways to teach things, even though adults may think they've seen them all.