Truckeroo School is a book by David Kirk. Kirk is an author and illustrator who is well known from his work with Miss Spider, which kids in the know call Sunny Patch. That show ran for four years, from 2004-2008 and can still be seen today on any number of platforms. I mention all of this because new parents might not know that property or his David Kirk or his style of painting and writing. Based on Truckeroo School his style is Telletubbies, but mixed in with their Gremlin cousins who were fed after midnight. Accompany that with rhyming text that fans of Pout Pout Fish will appreciate and you've got a unique book that seems like it was left on this side of the looking glass by some wayward, yet very friendly monster.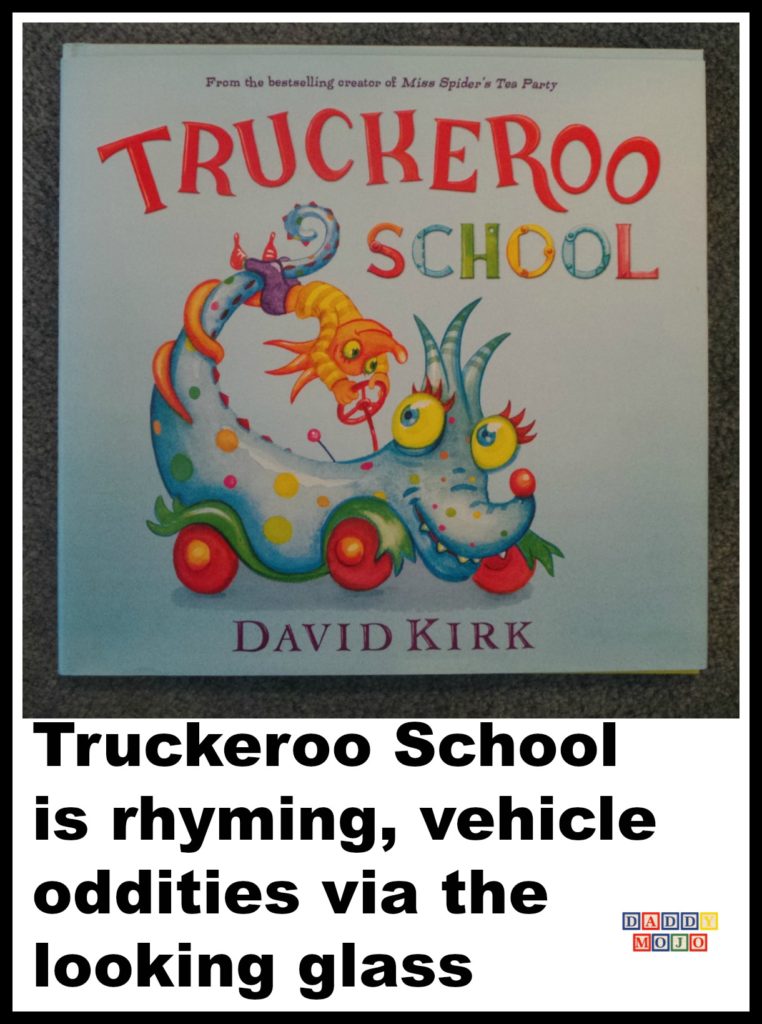 Truckeroo is a city in this mythical world and when children are born here they've given various parts of cars so that they can build their own. This vehicle needs to compliment their personality and the result of this is that every truck in Truckeroo is a hybrid  vehicle from the monster making car factory of One Piece At A Time.
The first six pages of Truckeroo are especially tricky. They start off with a dozen children taking the vehicles that they've created out for a walk. Each child has a leash and the leash drags on through the following pages. The leash changes colors, like cobbled together string that was done to make it longer. However at the end of page six each vehicle has its owner and only the most astute young reader will know whose car belongs to which child. Think of a much more intricate of Billy going for a walk in The Family Circus and you have an idea of what's going on.
We then meet various children and their cars. Persmella is a purple creature with two skinny arms that like octopus tentacles. However, she's also wearing a tutu, so she can apparently dance. Her vehicle has the head of a turtle with four balloons on the back that spew gas and she drives it whilst sitting on the toilet. Mind you, Truckeroo School is not a potty humor book, it's just that the completely silly nature of this image and the text will have pre-K kids laughing hysterically.
Every two sentences in the book ends with a rhyme.
That way, young readers will learn the value of time.
As the school day continues and eventually ends,
The importance of indivuality and work is a message it sends.
The rhyming text will help young readers flow from sentence to sentence. The art, especially if you take a detailed look at some of the images, are trippy, weird, Seussian in nature and entirely OK for children. For us it was surprising that the art, was a surprise because painted illustrations usually make us sleepy. Their dreamy nature and soft edges put us at easy and knock us into sleepy town. Truckeroo School is too psychadelic for that to that happen and instead kept drawing us into its hazy details.
Truckeroo School is a little long to read twice as a good-night book. However, it's long enough to where you can take your time reading it, verbally play with the images and text so  that it will satisfy those kids that want two books. Second grade students will be able to read most of the words themselves while those younger will need assistance.