Invasion of the Scorp-Lions is the third book in the Monstertown Mystery series by Bruce Hale on Disney Hyperion. It's a series of books aimed at upper elementary school readers that feature Benny and Carlos. They're two typical students who are most likely in the fourth grade at Monterrosa Elementary. What's atypical is that this particular school is it has a history of monsters, strange animals and spooky happenings.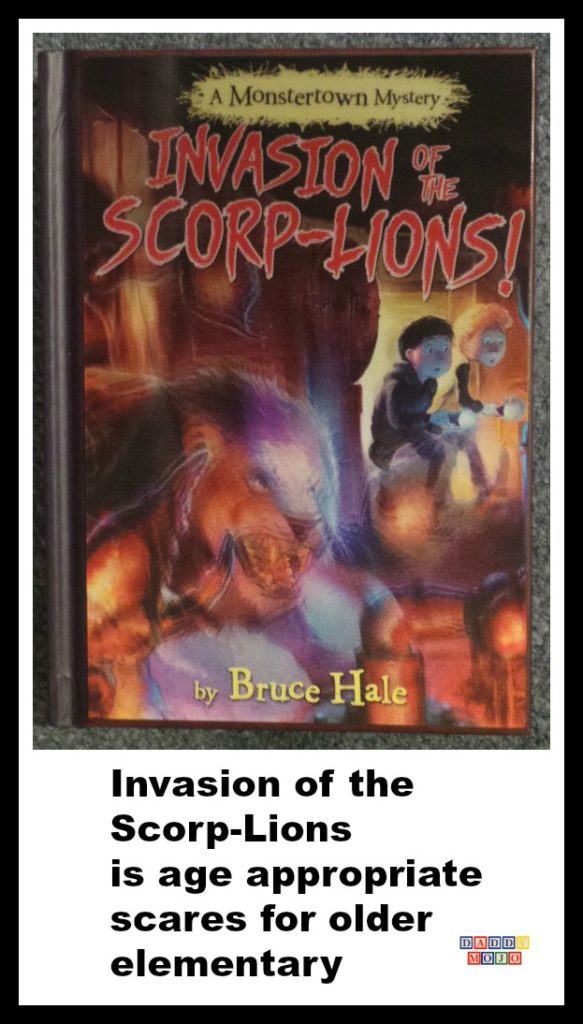 Benny and Carlos have been through some of it before, but this time it starts off with something of a possibly more medical motivation. Some of their classmates are falling into a coma. It all starts when someone starts moaning about seeing monsters everywhere, before collapsing onto the floor. This happens in a chapter that's cleverly called, Coma Chameleon.
Most of the chapters have clever pun names. The Next Pest Thing, Mr. Monster's Neighborhood, Three Dog Fright are just a couple of titles that give older readers song of the tongue in cheek personality of the book.
While older readers might grin at some of the chapter titles, it's the witty banter between Benny, Carlos and their friends that keep the story together. It's realistic dialogue that a group of 10 year old kids would have. They make fun of each other, play, know their secrets and insecurities. When I was reading Invasion of the Scorp-Lions my first memory was that of Stranger Things or Goonies. It's that age of children, where they're still young enough to be super silly, but old enough to be able to display their own unique personality that is fun to be part of.
It's also quite difficult to capture. Some books make kids too sappy at that age or have dynamics going on in the family that never let the kids simply be kids. Invasion of the Scorp-Lions does touch upon the boy's families, especially Carlos'. But those elements help ground the story and helps provide some consequences for the boy's actions-if they're unable to keep the monsters at bay.
In Invasion of the Scorp-Lions it's a pair of lions with scorpion tails that are in the school that's the problem. As the boys have the most experience in dealing with monsters they volunteer to help out the principal in removing them. This leads them other classmates helping them, meeting a mysterious man who just might be behind it all, a kindergarten teacher who knows how to conduct a séance and more.
Third graders, who are very good readers will be able to dig into Invasion of the Scorp-Lions and enjoy it. Second graders who have the book read to them will enjoy it. Kids older than both of those groups will be able to read the book relate to it and enjoy the age appropriate silliness and scares.
That's the other thing. For an older elementary school book it delivers a rich story about monsters that are just creative and fun enough not to be scary to them. Each chapter is around seven pages and the books small, diary sized format lets the book stand out from others. This is further accentuated by the ventricular front cover that has the Scorp-Lion, licking his paws and then lunging with his incisors and scorpion tail out.
Scorp-lion, benny, carlos, A Monstertown Mystery, Invasion of the Scorp-lions, elementary school, young readers, young reader,
Invasion of the Scorp-Lions is age appropriate scares for older elementary. Grades 4 and up will identify with the characters, love the action and monsters.