We were provided with a copy of the DVD for review purposes. Has it really been 18 years since SpongeBob SquarePants first appeared on Nickelodeon? And how is it that this show, currently airing its 10th season is just about to release its ninth season on DVD? Call is undersea math with a pineapple twist, but SpongeBob SquarePants: The Complete Ninth Season arrives on DVD on October 10.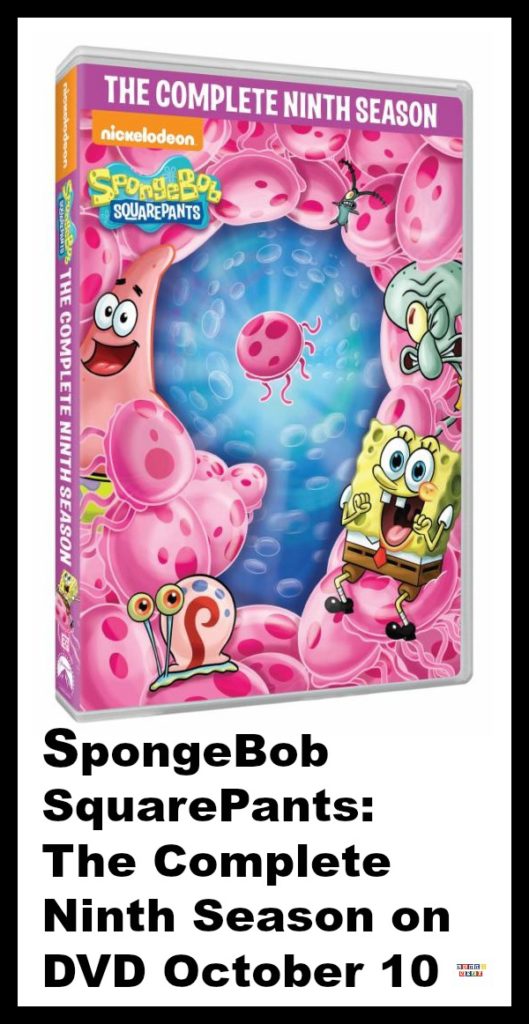 Our children love SpongeBob SquarePants, but have only recently been allowed to watch him. We were one of those parents who put the kaibosh on SpongeBob until our youngest was 5. That was almost a year ago and he's never looked back. Ironically, because we also cut cable around five years ago, it didn't allow our kids to watch him in real-time.
This set of DVDs gets us pretty close to that-and even after 18 years this show is laugh out loud funny. It was so funny that that's why I had to check and see how long it's been on the air. Adult audiences expect shows to not be as funny the longer they're on television. However, SpongeBob SquarePants is in that grey area of the fact that it's the highest rated show for ages 2-11 on cable television. At the same time the show is spot-on with satire that adults will completely understand, yet is presented in a way that is fine for children too.
When the kids and I were watching some of these episodes I was laughing harder than they were. Some other times they were laughing when I wasn't and then I started laughing at them-then laughed at what was happening on the screen. If you haven't seen SpongeBob SquarePants recently it's worth checking out.
For proof of this, dig into the stop motion show that's airing on Nickelodeon. It combines the beauty of stop animation, plus the classic and timeless SpongeBob SquarePants dialogue and characters.
Fans of this long-time fan-favorite cartoon won't want to miss this hilarious collection. SpongeBob SquarePants: The Complete Ninth Season comes with four discs and over nine hours of content, including five special SpongeBob SquarePants shorts. Produced by Nickelodeon Home Entertainment and distributed by Paramount Home Media Distribution, SpongeBob SquarePants: The Complete Ninth Season will be available on DVD October 10, for the suggested retail price of $22.99.