Elementary school kids know the Pout-Pout Fish. Elementary school kids are also introduced to bullies at this age. They may not know them as bullies, at the younger age they simple might perceive them as bossy or mean, but most like that kid is a bully. The Pout-Pout Fish and the Bully-Bully Shark tackles bullying in this timely book that's appropriate for National Bullying Prevention Month and beyond.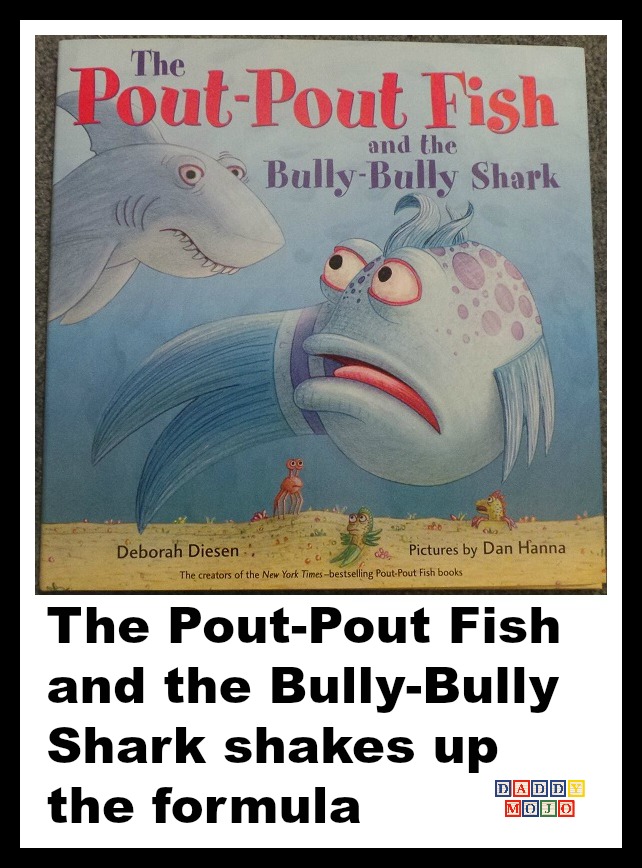 The Pout-Pout Fish books are nothing if not dependable. Young readers know that the title character, Mr. Fish is doing something where he's uncertain, insecure or intimidated by. It's based upon that known scenario that The Pout-Pout Fish and the Bully-Bully Shark is such a treat.
This book starts out with Mr. Fish and his friends playing at the park. They're blowing bubbles, roasting marshmallows (over a volcanic sea vent), swinging and having a great time. There is no chaos, uncertainty or school issues and everyone is getting along until a shark appears.
The shark goes about taunting the fish, while Mr. Fish realize that the shark is being the problem, but acknowledges that he's just one fish. What can just one fish do? The school of fish goes on to two other playgrounds but are followed by the shark each time. After the shark follows them to the third park Mr. Fish feels sad and starts to leave the park. Just as he crosses the threshold he has a reality check and realizes that words can make a difference.
The tiny Mr. Fish swims up the shark and tells him that being a bully isn't what he is; rather it's what he's done. Gradually the rest of the school gets behind Mr. Fish to teach him a lesson that every elementary school kid needs to learn.
As you read this book pay attention to the illustrations by Dan Hanna. There are some clever sight gags that fly just under the radar, like the worms sneaking into his juice box or the much more overt sight of him reading How To Be Respectful by Dr. Em Pathy after the school of fish finally talk to him. The rhyming text by Deborah Diesen is a large component as to why children enjoy The Pout-Pout Fish books. However, the more books we read with Mr. Fish, it's the art and illustrations that keep us, as well as the kids that we read to, coming back for more.
These are classic books for your home elementary school library. You may not have all of them, but this is one that stands out because it presents a different side of Mr. Fish that kids need to see and have in their personalities too.