The Whiskers Sisters is an original graphic novel by French illustrator and cartoonist Miss Paty. This is the charming story of three sisters who live in the forest with their grandfather. He's the Guardian of the Forest and has been gone for a long time on a business trip, so the girls think. The Whiskers Sisters are Maya, the eldest, Mia, the middle and May, who is a toddler unable to speak yet, so her sisters think.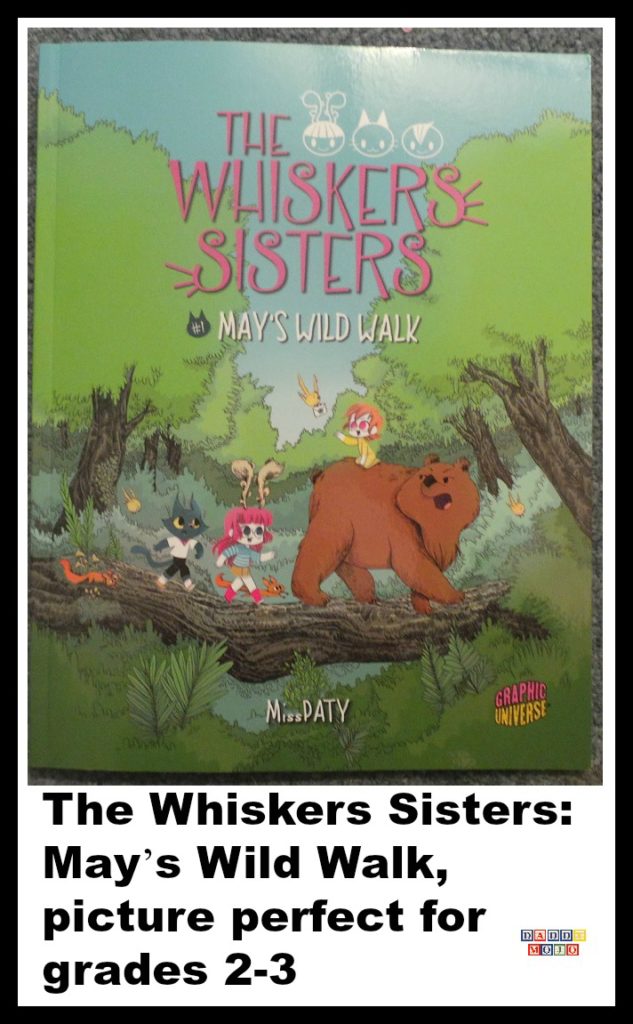 The day starts out like any other in the forest, with the owl delivering the mail. He delivers a great piece of mail that has the two oldest girls excited, but May is left out on the good news because she's too young to read. While she might be too young to read, May is full of thoughts and able to communicate with readers through her thought bubbles. May, being the curious toddler she is, goes exploring in owl's mail bag just before he comes bag to retrieve it. As owl flies off into the sky May looks at the fraying straps of the mail bag as she and hundreds of letters go hurtling down to the forest floor.
From here we see that it's not just the reader that can understand May. All of the animals can understand and communicate with her too. All of the forest animals know the Whisker Sisters and also realize that her two sisters must be looking for her. They also want to help own find his letter so that he can carry on delivering the mail.
The Whisker Sisters: May's Wild Walk was a sweet surprise for us. Its simple story is serviceable, but it's the art that makes this graphic novel jump out and become truly entertaining for kids in kindergarten through fourth grade. Mia is the more enthusiastic sister who likes to entertain others. Maya is the typical older child, more reserved, but still willing to go along with fun in moderation.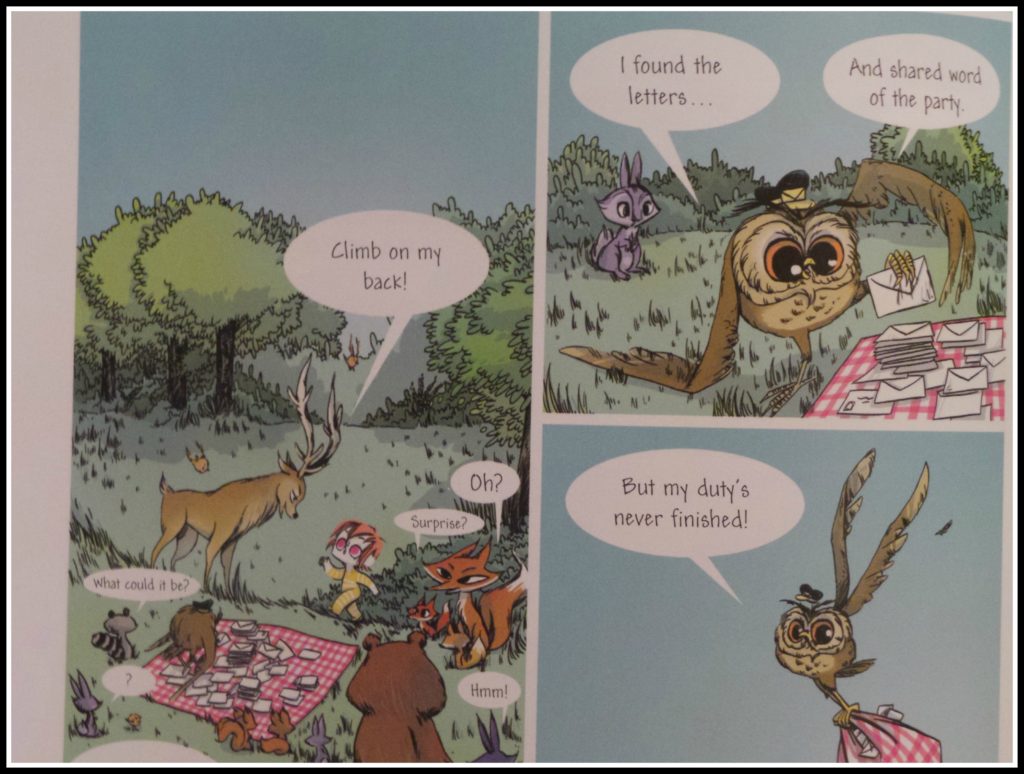 The forest animals are also a force in May's Wild Walk. They're sharply drawn with great detail and a classic, cartoon approach. This is countered by the big round eyes and more manga appearance of the Whisker Sisters. The result is a really beautiful early reader graphic novel that kids in second or third grade will be able to read with minimal, if any assistance. Kids younger than that will identify with May as the book is read to them when they're going to bed.
We did that with our son when he was four or five. He would pick out a comic book or graphic novel and we'd read a couple pages to him, before leaving him alone to look over the pictures and practice sounding out the words in his head. Boys will enjoy The Whisker Sisters if they give it a chance, but girls will gravitate to it quicker.