Science Comics is a series of books from :01 First Second that have previously covered a wide range of topics including Coral Reefs, Bats and Volcanoes, just to name a few. The amazing thing that all of these books have in common is that they manage to make readers interested in things that we wouldn't otherwise be interested in. They also manage to do it in a way that educates as much as they entertain. Science Comics, Dogs by Andy Hirsch, is another beautiful example in this series as we learn all about man's best friend.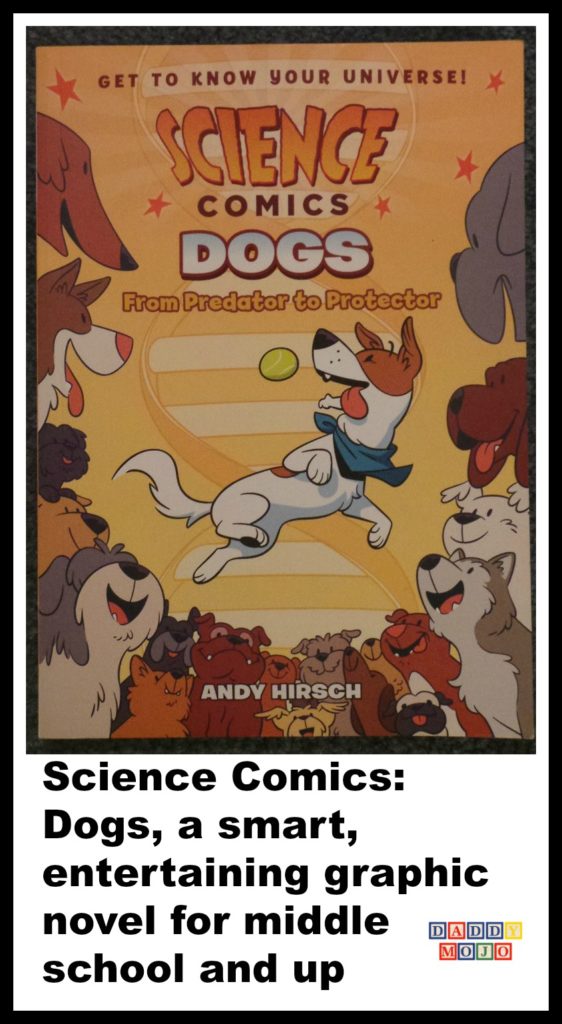 This is fascinating stuff that takes a deep look at canis lupus. Science Comics Dogs is also a very smart graphic novel, but it does so in an approachable manner that middle school readers and up will be hooked at learning; yes learning, whilst having fun and reading a graphic novel.
Rudy is our canine guide who serves as narrator. He's in the dog park playing and briefly introduces us to the myriad of different dogs there. He tells us about the history of dogs and how they're grouped according to taxonomy and more. It's then that Rudy's owner throws the ball and he travels back to 25,000 B.C. It's the prehistory of dogs and their history hasn't been mapped out yet by Gregor Mendel.
Mendel is the father of genetics and Rudy takes a look back at how he was trying to splice peas. He planted lots of peas and it was his foundation that laid out how genetic inheritance. Trying to explain genetic sequencing, much less making it palatable and understandable to those that know little about it (like me) is a daunting task. The fact that Science Comics, Dogs manages to do that speaks to just how entertaining this graphic novel is.
Just when readers fell like the content is over their head the illustrations draw you back in. Relative to other books in the Science Comics lineup, this one is more difficult to read. This graphic novel has content that's appropriate for any age, but those kids who are 11 and up will be able to read it without getting frustrated. Our 8 year old liked looking at the pictures, but some of the vocabulary was too advanced for him.
One takeaway from the book is that it makes you happy. Actually, every book that we've read from Science Comics leaves us with that feeling when we're done. Is it happy science? I think it's in the way that they're drawn and presented. However, with Science Comics Dog, it certainly helps that the book's guide is a Jack Russell.