This dad is a pack rat.  Like most kids growing up I had a couple Tonka toys to crash around in the back yard.  We had a sand box that the Tonka's would build sand castles, carry logs (sticks) and do all sorts of things to simulate a boy's active imagination.  I was especially lucky growing up because we had a creek behind the house.
I was lucky; my parents had to deal with a dirty, muddy, wet child tromping up the back hill towards the house where mom hopefully made a peanut butter and banana sandwich.   Recently my father paid my wife and me a visit and brought with him a couple boxes of old toys and valuables.*
It really was just a couple of boxes, but if you ask my wife it's enough boxes to recreate the last scene from Raiders of the Lost Ark.  In some of these boxes were my old Tonka toys from the 70s.  I only remember three Tonka toys that I had as a child, so if I truly trust my beer ravaged middle age mind, I currently have all of my Tonka toys.
This dad is a pack rat and a collector.  A collector is different than a pack rat.  The collector thinks that most things they collect will appreciate in value and be able to be resold in the future for enormous profit.  However, I'm a realistic collector and realize that these Tonka toys aren't worth buckets of cash, but can be loads of fun to play with to a young boy.  If you're interested in buying some new toys for your kids, you can use this Game Stop promotional code to help you save some cash.
But should I let my child play with them?  I don't want to be the nostalgic dad on the corner who opens a vintage toy store…..ok, that's a bit of a lie.  Am I pushing off my memories of these toys on my son or am I sharing classic toys from another era with him?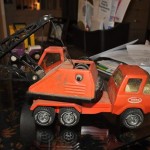 The Tonka Crane
This old guy suffered the worst through the years.  And by years I mean the number of years that I played with it.    Structurally, it's in super shape, the crane is broken, but a little Gorilla Glue and it'll be sound as a pound.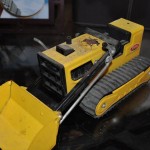 The Tonka Bulldozer
It's got a little bit of rust on the top, but once I sand that down it'll be safe and ready for the back yard.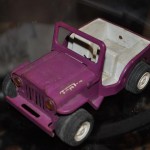 The Tonka Jeep
This was always my favorite toy.  It rolled over the dirt effortlessly, had space for a Weeble or two and could put cargo in the back.  It's also in the best condition of the three; there are no rust marks or scratches on the paint.   As a dad I may question the purple color, but as a kid it provided countless safe passages to Stretch Armstrong and G.I. Joe.
My money is on sharing the classic toys.   Will he play with them?  That is the big unknown.  When he's older the bulldozer will be a hit, it's a safe bet that he'll love the jeep and the crane all depends on how well it can be repaired.  Of course, if these were still in the box or in mint condition Baby Mojo would have to get his own.
*Valuable only in the eyes of an 8 year old boy.