Sing does what many movies fail to do; it gets better with repeated viewing. We saw Sing in theaters and were pleasantly surprised. It's not paced like a traditional film, much less an animated one, plus the humor and heart that are obvious in its first viewing are even bigger the second time around. Additionally our two boys (aged 5 and 7) loved it and picked on the lessons that characters taught.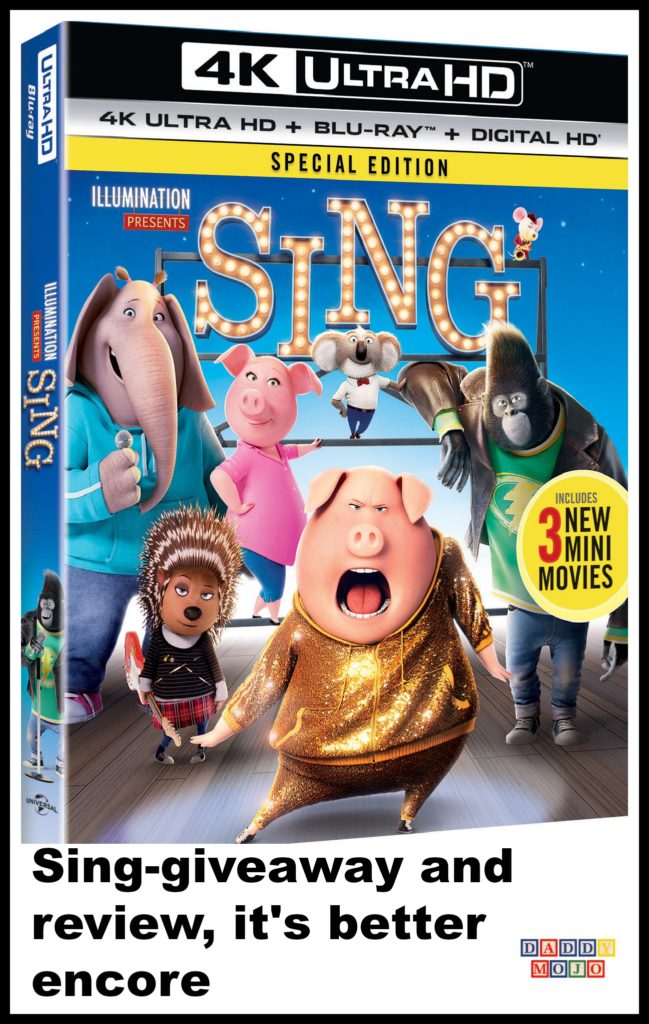 These aren't 'pound you over the head' lessons, they're the soft lessons about how to act, treats people and those social graces that help make up productive adults. The vocal cast is great too; Matthew McConaughey's voice is just perfect as the hopelessly optimistic Buster Moon. John C. Reilly is great as Eddie, the slacker llama and his mother's voice is difficult to place, but fans of Absolutely Fabulous will know it when they hear it.
Win a copy of Sing on 4K Ultra HD combo pack HD

Sing is great entertainment. Because of its pacing and title one might expect that it's all about a talent show, with the final act crowning a winner. To an extent it is, but it's so different that about halfway through you'll stop trying to guess where it's going and simply enjoy the ride.
The Sing Blu-Ray DVD has 3 new short films in it also. If you've never seen Sing you can go ahead and view them without it ruining anything. If you've seen the film then you can watch all three of them and remember why you liked them in the first place. There are also all sorts of music videos, The Making of Sing, character profiles, The Making of the Mini-Movies and more. The 4K Ultra HD comes in a combo pack with the Blu-Ray, Digital HD and UltraViolet too. You can also watch the movie in French, Spanish or English. Sing is rated PG for some mild rude humor and perilous situations. Our 5 year old watched it and was OK with everything he saw.
This giveaway is for a 4K Ultra HD combo pack of Sing-good luck!