"You've never heard of The Boxcar Children? They've been around for 75 year, have been translated into dozen of languages, are one of the best early chapter books and loved by elementary school aged children everywhere", she said. Granted, she worked for the publishing company, but she was clearly enthusiastic about finding someone who had never heard of The Boxcar Children. Journey on a Runaway Train celebrates the 75 anniversary with a new five-book miniseries.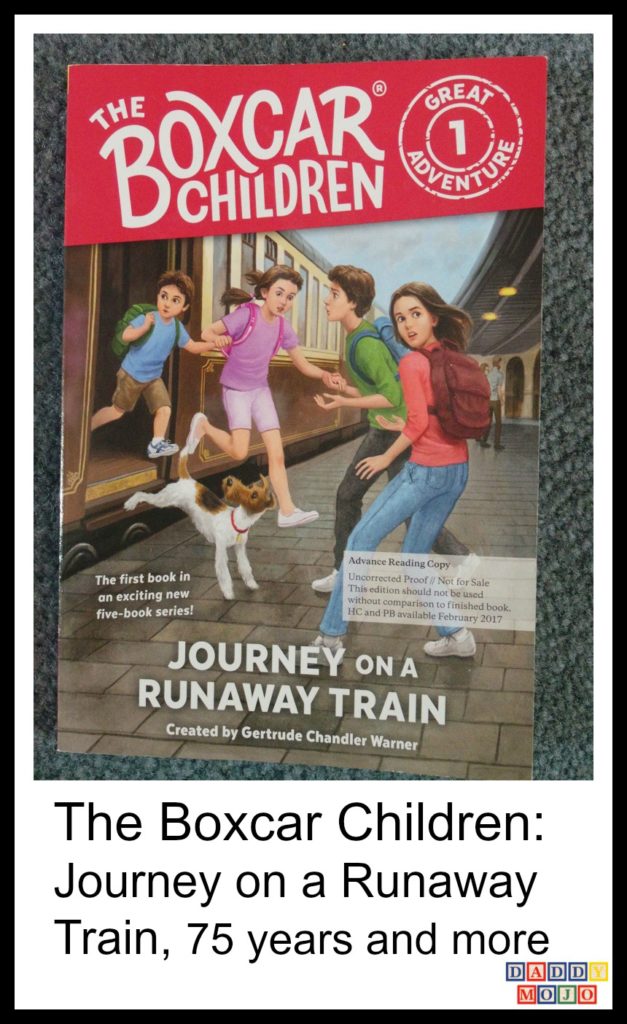 Sure enough, on the next visit to our children's elementary school library I saw this sign. The students were voting on a Battle of the Books, with popular titles going one on one, and the most popular one winning the championship.   The semi-finals are happening now and look who is in there, The Boxcar Children. File under: the kids know what's up.
Journey on a Runaway Train is contemporary and set in today's times. About midway through the book a character addresses the whole 'boxcar' element when the kids board the train. Prior to this book series I always thought 'Willie' when someone said boxcar. Think of The Boxcar Children as an early reader series with Goonies style friendship and adventure with some Indiana Jones for historical and archeological importance.
The vocabulary and structure of the book is just a bit higher that our first grader can handle. It's not too large of a reach up, but is too difficult for it to be his 'me' time reading fun. Second through sixth graders will be able to read the book with ease.
We meet the Aldens, a group of four siblings who discover an old trunk that is the source of their upcoming adventures. The Indiana Jones element comes in the form of the Reddimus Society, a shadowy group that collects missing archeological treasures from all over the world so that they can be returned to their rightful owner. All that's missing is a French actor in a beige suit drinking tea.
The fact of how the Aldens could embark on any sort of adventures when they're children is also logically explained and kids will readily buy into their travels. Journey on a Runaway Train sets up a mystery, with a possible conspiracy, that will take them over five books. This first book answers a couple questions, posits many more and introduces us to a couple characters who the Aldens might be able to trust.
If you're an existing fan of The Boxcar Children you'll enjoy reading their new adventures. The first book in the series comes out in February 2017, with the next four books coming out every other month.