It's a little ironic that The Defiant Ones starts out near the end of the story. The multi-billion dollar deal between Apple and Beats by Dre has been finalized, but not made public. Jimmy Iovine learns from Puff Daddy that reports of the deal are being bragged about on Facebook, which could scuttle the entire transaction. That was 2014, but the road leading up that moment is the true story of The Defiant Ones, which has been nominated for a Grammy for Best Music Film. It is intended for mature audiences and contains content that is not rated.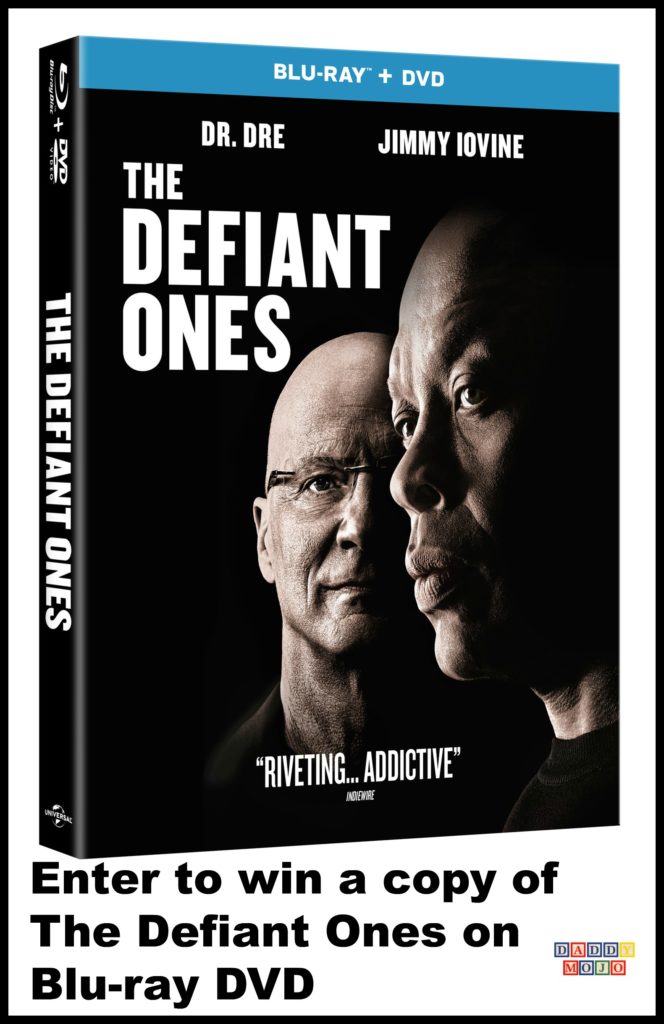 The Defiant Ones is a beautifully shot docu-series that aired on HBO about Dr. Dre and Jimmy Iovine. Iovine is the co-founder of Interscope Records. In the 1990's Interscope Records was the place to go for emerging talent. It was home to Marky Mark, Primus, 2Pac, No Doubt, Nine Inch Nails, Snoop Dogg, Marilyn Manson and Dr. Dre.
A copy of The Defiant Ones on Blu-ray DVD, plus prize pack
As a film and as a story about persistence, working hard and not being intimidated The Defiant Ones can teach anybody something. Certainly some will look at the people who are interviewed in the show and presume that they had money, they had a lucky break or something else to mitigate their success.
We learn about Iovine's humble roots and how he started work sweeping in recording studios, before getting fired twice. He answered the call when his boss asked him to go into work on Easter one year to help in the studio. It turns out that the artist who was recording that day was John Lennon.
Dr. Dre's background is better known as a member of NWA and The Defiant Ones does a great job of displaying archival footage from the 90's; as well as, interviews with his mother. Think of a famous musician and they're in here to some extent. Tom Petty, Springsteen, Bono, Eminem, Ice Cube and more help vary the pacing and storytelling of this incredibly entertaining DVD.
Call it shades of "Behind the Music", that series that used to air on VH-1. This is fascinating, behind the curtain talk about the world of pop culture, specifically music and, to an extent technology.  In 2006 Iovine teamed up with Dr. Dre to form Beats and that success led to where the docu-series started.