When is a book whose main protagonist is a turkey not a Thanksgiving book? Zack and the Turkey Attack! isn't about a turkey taking wrath by increased Tryptophan. This is the fun story about Zack, his friends, grandparents, making crazy inventions in the barn and a turkey who doesn't like children. In reality, Zack and the Turkey Attack! has more in common with a farm centric Goonies-with a side of STEM, than a tale about Thanksgiving, despite the turkey in the title.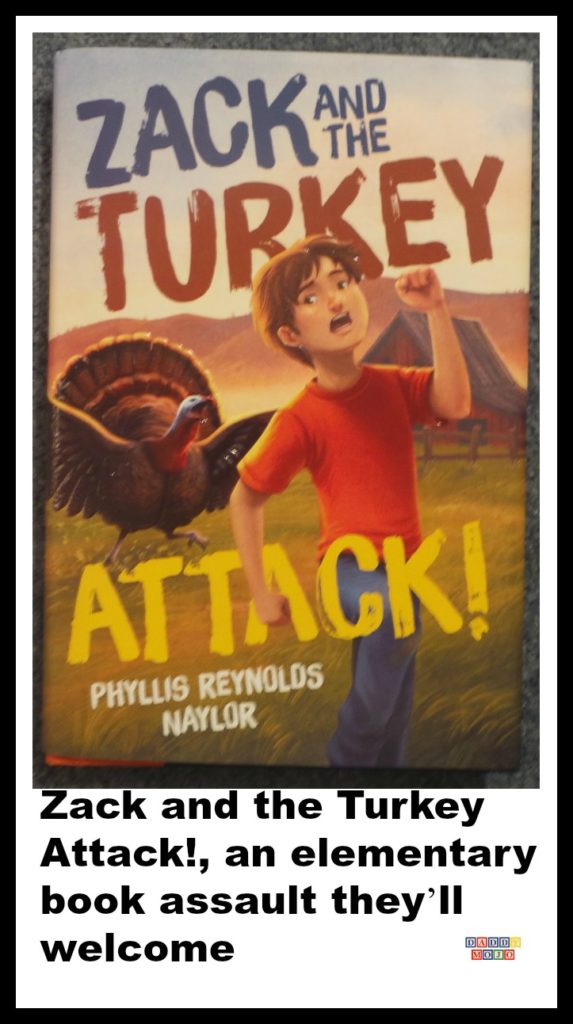 Josie is one of his friends and lives next door to his grandparent's farm.   She has her own mystery to solve and ropes in Zack to offer some assistance. It turns out that someone is stealing valuables from her house. The two investigate clues outside of her open windows and have an idea of the culprit, but can't find any proof.
Matthew is his other friend who lives in the city near him. He hears the stories about Tailpipe, the farm menacing turkey that always causes trouble for Zack, but simply tells him that "it's just a big bird" and to not be scared.
Zack is a typical 12 year old boy. He's creative and has an active imagination. Using these skills he and his friends start to build a machine that will help them foil any foul attack from a turkey who is just looking for trouble. They're not building something to kill the turkey, it's not really their turkey after all and Tailpipe doesn't cause his grandparents any harm. The kids just want to build a machine that will intimidate the turkey by size and scope. A big noisy machine that will move, make lots of racket and scare the turkey to a greater degree than he scares Zack.
Zack and the Turkey Attack! is 19 chapters, with the longest chapter being 13 pages. The text is on par with something that upper elementary students and middle schoolers will be able to read and have fun with. There are some illustrations of the turkey, as well as Zack and his friends on the farm, but this is a chapter book for young readers that are ready for the next step.
Case in point, our second grader is able to read the text in Zack and the Turkey Attack!, but found it too intimidating to read on his own. We read it with him and he enjoyed the book. He then read parts of it, 'in his head' as he does when he's digesting new words or text that are just out of his comfort range.
Zack and the Turkey Attack! is written by Phyllis Reynolds Naylor, author of more than 145 books and published by Simon & Schuster.