From the moment you look at Wordplay you know that it's different. Its landscape format makes the book stand out because it doesn't look like many books you see. Then you open up Wordplay by Ivan Brunetti and its graphics inside stand out also. It's trippy and fun, think of a brand new reader's book for compound words, but presented with a twist of Alice in Wonderland and you get a feel for Wordplay.
Kindergarten through first graders might not be studying what a compound word is in a grammatical sense. However, they do know several compound words, two separate words that combine to form something new and fantastic. From a tool or DIY perspective, they're the hammer drill of the English language.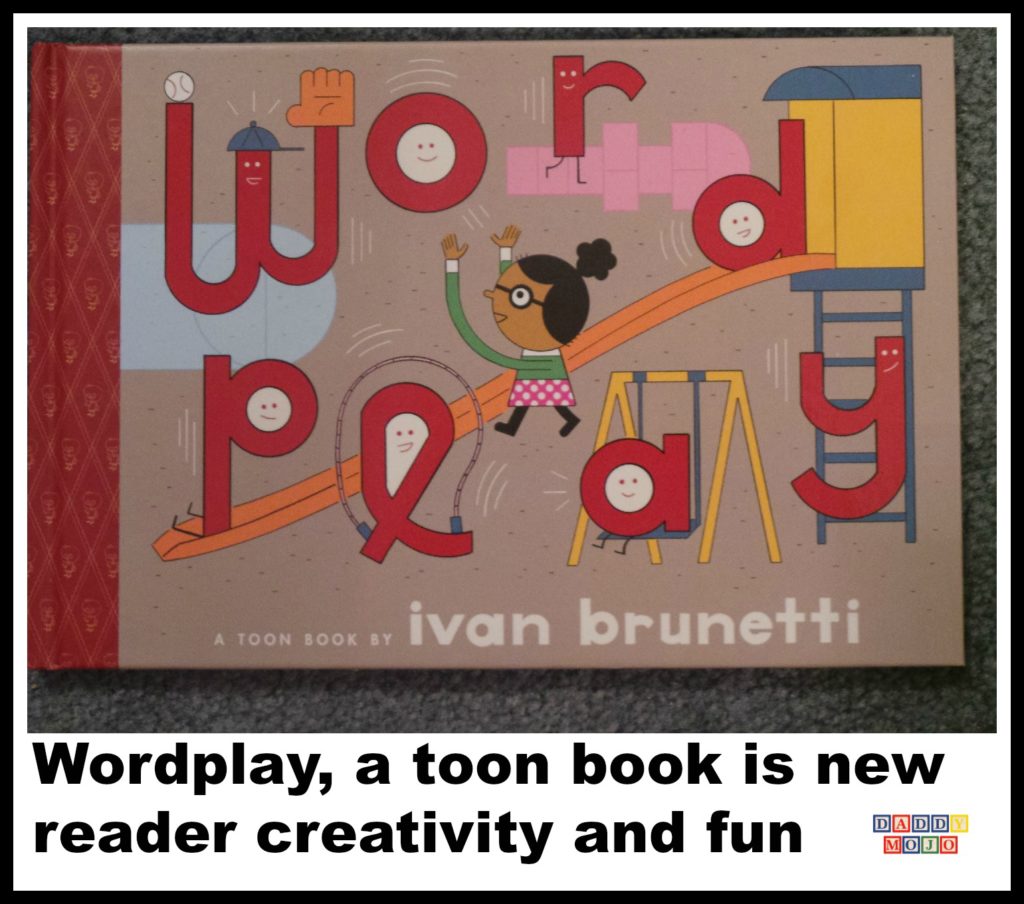 We see a group of students in class who are being instructed by their teacher about compound words. A girl named AnneMarie, who not coincidentally has a compound word as her name, correctly answers the teacher. From here we see all sorts of physical things doing activities that they can't do or possibly be. There is a home doing some work, a milk figure shaped as a maid, a piece of mail that's shaped like a man, the moon under a light and many more.
This is silly fun that grades K-1 will laugh at and get them thinking. Wordplay is a Toon Book and their rating system is one of the most efficient that you'll see in children's literature. On the back of the book, in bold letters you'll see Level One, with directions to see the inside back cover as to what exactly that reading level is. Here we see that Level One is for brand new readers, grades K-1 with a lexile score of BR-100, guided reading for classes E-J, has 100-300 easy sight words and more about the book.
Don't let that technical talk intimidate you. Parents will know that the E-J reading guideline is what they tell you in elementary school. The rest of the terms I've heard their teachers mention to me, but never really grasped what they were. Don't worry about it.
Wordplay and other Toon Books are clearly labeled for what audiences will best enjoy them. There are other Toon Books that are good for Level 2 and Level 3, serving grades 1-2 and 2-3, respectively. Our 5 year old likes Word Play and it gets his mind going. Sure he loves the goofy illustrations of a bed with legs walking (sleepwalk), but they payoff comes when we ask him to expound on some examples.
He'll rattle off a series of other compound words that are not featured in the book. And just like 'rabbit hole', which AnneMarie tries to make into a compound word, he'll attempt to create words that don't exist. At that point he'll laugh and press on to other examples.
The illustrations by Ivan Brunetti also make the book very enjoyable for young readers. It's retro, but has an entirely modern feel that children will identify with and want to read over and over.