School has started, the weather is cooling off and that means it's time to read comic books. Well, you can read them inside, look at the leaves and find some really cool all ages comics that you and the kids can discover. And this is the week we've been waiting for as the comic that's kept us on our seat's edge is out. We'll take a look at that one, plus lots of others. However, for the 100 foot view, here are five great all ages comics that'll entertain young readers five years old and up.
Star Wars Adventures #1
Star Wars Adventures is one of the all ages comics we've been waiting for ever since we heard about it. It's being produced by IDW Publishing and is for ages 5 and up. The existing Star Wars comics that are published from Marvel Comics are more geared for the tween audience and older. This one has art that fans of the Disney XD Star Wars animated series will connect with immediately.
Samurai Jack Quantum Jack #1
Samurai Jack Quantum Jack is a new mini-series that sees your favorite time traveling samurai, this time he's the leader of a biker gang. If you liked the show on Cartoon Network or the mini-series that previously ended this will be right up your alley. Not a true all age comics due to the action, but ages 11 and up will be OK with this one.
Fruit Ninja #1
A comic book about Fruit Ninja-now they've just gone too far. If they can make a movie about emojis then they can make a comic book about Fruit Ninja. Juice Jitsu is the art that the Fruit Ninjas practice and slicing fruit protects them from time traveling super-villains. See…and you thought it wouldn't sound interesting. Fruit Ninja has been downloaded over a billion times, so curiosity alone should make this one fun for ages 6 and up.
My Little Pony Movie Prequel #4
This is the final issue in the My Little Pony Movie Prequel mini-series from IDW Publishing. In this issue the Ponies meet their most dangerous foe yet. The movie comes out soon and old school Star Trek fans will appreciate the homage that's played upon in the cover art.
DC Superhero Girls Power Play
It's a busy week for any of the girls in the DC Superhero Girls universe. They have five books out this week and DC Superhero Girls Power Play is one of them. This has hundreds of reusable stickers so young fans can decorate Batgirl, accessorize Wonder Woman or have Supergirl in combat mode. It retails for just under $10 and is from Gallery 13, which is a new imprint of Simon & Schuster.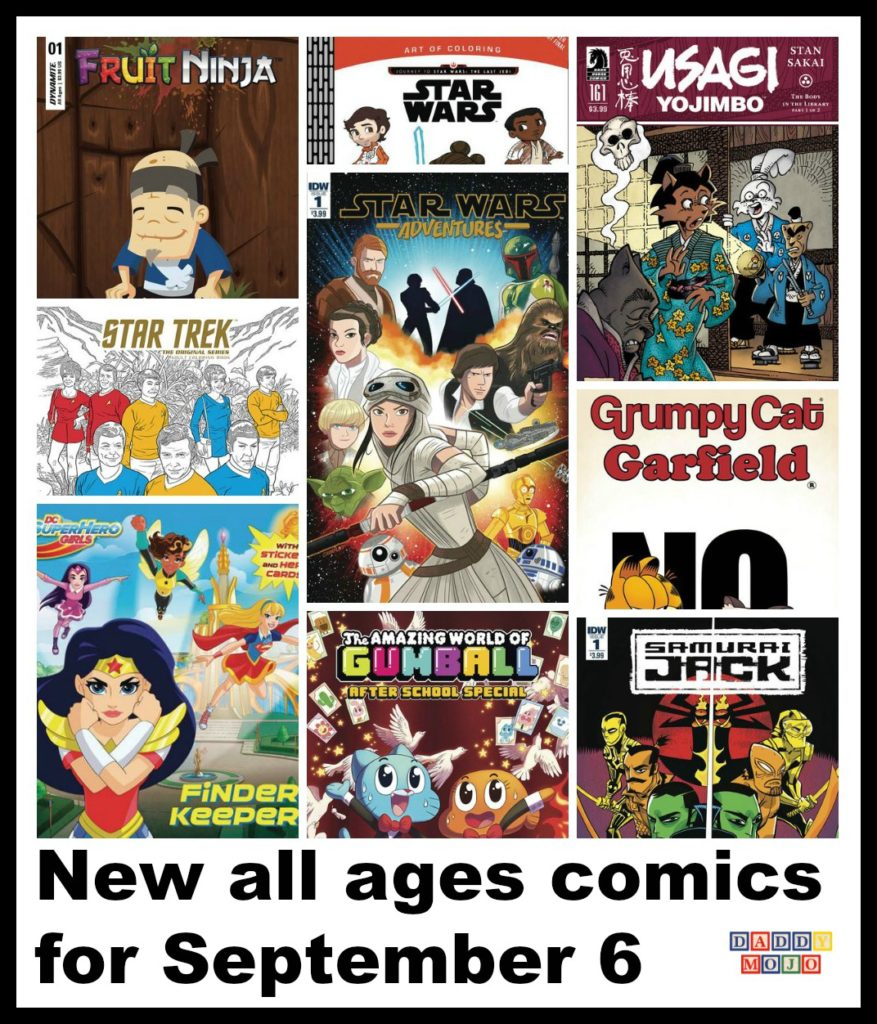 Humor
Superhero
Action/Science-fiction