Changing a door knob to a bathroom should be a key element when you're thinking about baby-proofing the house.  You know to latch the low cabinets that children can get into, but you've got years before the baby will be walking around the house and wait, is he opening the door while your mother is on the toilet?!?
That was the situation we had at our house once.  I forget exactly who was in the bathroom, but whoever it was they sure weren't expecting a giddy toddler to come crashing their party.  Changing the door knob on the public bathroom; to one that locks is mandatory for parents who might have company over or need to take a minute from small, noisy toddlers.
Why would a bathroom door not be able to lock?  We have the same door knobs on most of the doors in our house, it's gold, turns down to open and doesn't lock.
Remove the old door knob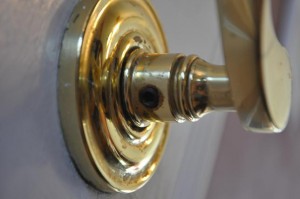 Remove the screw in the door knob first
There is a screw that holds the door knob handle into the mechanism.  This screw needs to be taken out.  Use WD-40 to loosen it and then try a small Allen Wrench, Needle Nose Pliers or a pair of Locking Pliers.  We tried all three wrenches, which didn't work, then sprayed WD-40 and used the Locking Pliers and they finally came loose.
Once the screws are off, remove the door knob handles and use a precision screwdriver to pry up the plate that goes flush against the door, do both sides.  Remove the internal locking parts that are in the door and your door is ready for the new lock.
Install the new door knob
Put the internal mechanism into the door so that the flat part is on the same side that the lock is on.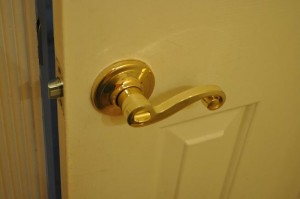 The new door knob that can lock
The rest of the assembly will vary depending on what style door knob you purchased.  For us it was a simple case of screwing the aligning screws into the mechanism so it wouldn't move around.  Then we put the door handles on, tightened them and pushed the fascia plate flush with the door.
eHow describes it this way: http://www.ehow.com/how_6573211_replace-door-knob-lock.html
Hints
Don't do this job with your toddler around.  We started the job with our toddler 'helping' us with his tools.  After a couple minutes (when the WD-40 wasn't around) we got really frustrated and had to turn on Bob the Builder for our toddler.  In Bobville I would have talking tools to assist me, but in Casa de Mojo it took us two episodes of Bob the Builder, about 22 minutes to do the job.
As a stay at home dad I miss having the spare time to fix things. Even though the child is my full time job, things still break or need a fix in the house. Sometimes the repair will be something that I can easily complete and other times it's a repair that I simply should've paid to have it done.  Regardless, I'll write it up here in hopes that you may be able to gauge what you can do and when you need to call in for help. The series is called, DIY a Stay at Home Dad Can Do, but in some cases, you shouldn't, because of difficulty, time involved or money. All dads aren't equal. In this case the task is very easy and you can do with little effor